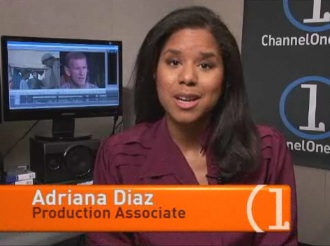 Meet Adriana Diaz. If your child attends a school that still shows Alloy's Channel One News, then he or she knows Adriana. She gets a lot of face time on the in-school TV show.
She is one of the pretend reporters on the show and she is also a pitch person for advertisers on the show. Doing both jobs gives her the chance to hone her in-front-of-the-camera skills.
If you watch any Channel One show (http://www.channelone.com/onair/ ) you will see how easy it is to be a Channel One reporter. During the first segment of the show, the anchor ( Jessica Kumari, Steven Lisowski (aka Steve Fabian), or Justin Finch) is surrounded by several "reporters." The "anchor" says something like, "Adriana, you've been covering the troubles in Iraq, what's new?" Then Ms. Diaz turns to the camera and regurgitates information she read off the AP wire. There may be some CBS News footage during her report. This is just "cut and paste" journalism, if it is any kind of journalism at all. When her report is over, the anchor turns to another "reporter" for another story.
This is pretty weak stuff. Why have Ms. Diaz and the others there at all? The anchor does so little he or she could handle the few news stories on the program. This setup however gives the appearance of real reporters who have just flown in from across the country with breaking news. The truth is these "reporters" rarely get out of the studio to cover anything of importance. Channel One just doesn't have the money to send reporters around the world anymore. They don't even have the money to cover hard news stories in the U.S. Instead these wannabe reporters read what other reporters have reported on. However, they do cover some human interest stories. These are a lot cheaper to produce than news stories.
Ms. Diaz has become recognizable to young people. She comes across as a real reporter, especially to younger middle school students. She then trades on the trust she has created with her captive audience, when she helps sell kids on new music groups that are paying Channel One to get their music in front of this captive audience of schoolchildren.
Here is Ms. Diaz doing an interview with a member of Five Times August. Adrenaline Records is using Channel One News to promote this new act. Channel One has played this their music over and over again during their school time TV show. But that isn't enough. Channel One uses its "reporters" to plug the group and their latest CD. This is disgusting. No real journalist, even a novice one, would use their credibility to hawk products to children.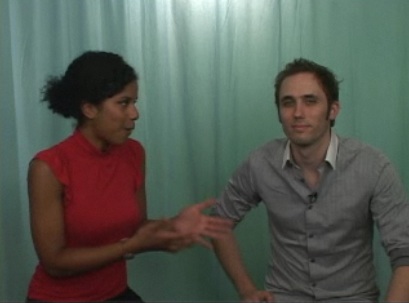 Adriana Diaz is more about marketing than news.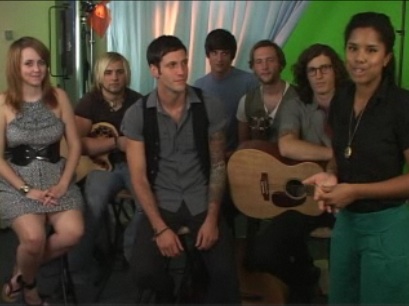 Uh oh, here is the Channel One News "reporter" doing a promotional interview with a music group that is paying to be heard on Channel One News.