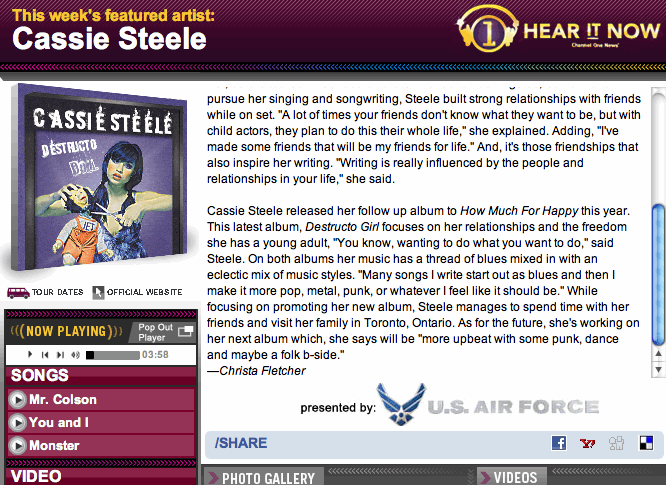 From Jim Metrock:
Alloy/Channel One News continues their intense advertising assault on kids to get them to buy Cassie Steele's CD Destructo Doll ("Baby put your sex on me." "Short and sweet and hot as f***!").
What you see above is from Channelone.com. Our previous article showed how this Channel One was advertising this singer and her CD on the classroom Channel One News program.
In the Music section of Channelone.com there are numerous efforts by Alloy/Channel One News to plug music acts. Below is a typical write-up by Alloy/Channel One News' Christa Fletcher. She evidently is their main PR person and her job is to make advertising look like a news story. Nowhere in this ad copy does Ms. Fletcher say her writing is an advertisement. Why tip the kids off? Ms Fletcher's purpose is to trick children. Not a very noble job, but she does it well.


Alloy/Channel One News' Christa Fletcher writes promotional copy that looks like news.
Selling stuff to children once you confuse them can be a lucrative business for some writers.
I wonder if Christa Fletcher has even heard the CD she is reviewing? Did she hear the first track Groupie? She quotes Cassie Steele as saying the CD is about her relationships (one night stands, evidently from her lyrics) and the "freedom she has as a young adult, 'You know, wanting to do what you want to do.'" I guess she is talking about the freedom to have sex with various women on her tour. ("I'd never had lips so sweet since Mary Jane was off her feet. Saw her in the crowd she screamed 'Baby can you handle me?' Called her up after my show brought her back to the bus, took off her clothes. Handled her with a mouth full of force. Sorry babe I've got to go. … Ain't nothing like groupie love. Short and sweet and hot as f***!")
Let's be clear. The above language is on the very CD that children are being told to buy when they watch Channel One News in their classroom. If you never understood why Channel One News is outlawed from every public school classroom in their home state of New York, now you have an idea. Parents: Get your school administrators to turn off this TV program. The vast majority of eligible schools in our country have refused to bring this marketing gimmick into their classrooms.
Kids don't stand a chance against Alloy/Channel One News. If this slime ball company wants to promote any product or any music group to a captive audience of impressionable middle school kids, they can do it. The fact that Alloy/Channel One has removed most of their commercials from the web replay of their program should make parents cringe. No telling what these kiddie marketers are advertising on their classroom TV show.
This is the puff piece Alloy/Channel One News' Christ Fletcher wrote to promote Cassie "Hot as F***" Steele.

Singer and actress Cassie Steele grew up in Canada with a childhood that was anything but normal. A child actor who had an agent by the time she was nine-years-old, Steele got her big break with commercials for a game called the "Fib Finder" and for an ad where she wore a Fruit Roll-Up raincoat to promote the lunchtime snack. Yet, these early beginnings proved fruitful for the young star as she was soon cast on the hit show, Degrassi: The Next Generation. Now that she's 19-years-old, Steele's role as Manny Santos is winding down as she starts her music career.

"The arts in general entice me," said Cassie Steele in an interview. "They are all connected. Performing in general is my passion. And, right now it's just music." Yet, before toured in Canada and later moved to Los Angeles, California to pursue her singing and songwriting, Steele built strong relationships with friends while on set. "A lot of times your friends don't know what they want to be, but with child actors, they plan to do this their whole life," she explained. Adding, "I've made some friends that will be my friends for life." And, it's those friendships that also inspire her writing. "Writing is really influenced by the people and relationships in your life," she said.

Cassie Steele released her follow up album to How Much For Happy this year. This latest album, Destructo Girl focuses on her relationships and the freedom she has a young adult, "You know, wanting to do what you want to do," said Steele. On both albums her music has a thread of blues mixed in with an eclectic mix of music styles. "Many songs I write start out as blues and then I make it more pop, metal, punk, or whatever I feel like it should be." While focusing on promoting her new album, Steele manages to spend time with her friends and visit her family in Toronto, Ontario. As for the future, she's working on her next album which, she says will be "more upbeat with some punk, dance and maybe a folk b-side."