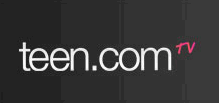 Teen.com is a rough place for teens and preteens.  The often age-inappropriate content on the site and its related sites, like Gurl.com, and the promotion of shows and books like Gossip Girl should be disturbing to most parents.  The plain truth is if your child is being forced to watch Channel One News (their contract with schools require the program to be shown 90%! of all school days), then your child is being told to visit Teen.com.
Alloy Marketing and Media bought Channel One News for one main purpose: Drive a captive audience of students to Teen.com and their other websites.  And that's what Channel One is doing.  They advertise Teen.com on their in-school TV show and on their website channelone.com.  Alloy put out a press release today, January 19, 2010, boasting of their advertising impact on young people.  They mention Channelone.com as one of the sites that funnel children into the "Alloy Digital Network."
Alloy Media and Marketing press release
If you are a parent or educator, this is one network you don't want children to visit.
from TVweek.com:

Column: Can Teen.com TV Become the Web's MTV?
Network of Online Video Sites Aims to Draw Young Viewers
By Daisy Whitney
More than 25 years ago, MTV revolutionized entertainment for teens. A hip, edgy music network with videos that spoke to the younger generation, MTV became a symbol for how to reach youth.
The network is still a mega-powerful brand, but the next big change in how kids are entertained may originate from an online network.
That's because teens are the heaviest consumers of Internet video programming. In January, the 12-to-17 age group watched 175 minutes per viewer, compared to 123 for the 18-plus group and 104 for kids 2 to 11, said Nielsen Online.
While youth-centric networks such as MTV and Nickelodeon continue to grow their online video reach—Nickelodeon reached 6 million unique viewers in January, MTV 4.5 million, according to Nielsen—networks are facing fresh competition from newer entrants who aim to own this generation's loyalty and love of Web video.
For instance, the teen-centric entertainment company and executive producers of the "Gossip Girl" property and TV franchise, Alloy Media+Marketing, recently launched Teen.com TV, an online video network aiming to be a new sort of MTV.
Through its network of teen sites including shopping site Delias.com, shopping, entertainment and lifestyle site Alloy.com, in-school network ChannelOne (online at channelone.com) and flagship site Teen.com, the company reaches more than 20 million unique visitors per month, according to comScore.
That network forms the backbone for the new Teen.com TV venture.
"We are like an E! Online for teens," said Jamie Elden, VP of digital and branded for Alloy Media+Marketing. "We are the TV network for teens and we are developing original programming and have a distribution network where teens can come and watch our content."
The company launched its online video network earlier this month to distribute Teen.com TV branded videos throughout its stable of sites. Already, they boast between 500 and 600 pieces of video content, and Alloy uploads six to eight new original videos it produces every day on fashion, make-up, entertainment and behind-the-scenes clips.
Alloy also is branching into original scripted programming. It has partnered with United Talent Agency to create the upcoming series "Haute and Bothered," to be sponsored by mobile company LG Mobile.
Separately, Alloy is leveraging its own entertainment properties, such as bestselling young-adult book series "Private," which will become a Web series on Teen.com TV in late summer.
Other advertisers on Teen.com include Paramount and Sears.
Will Teen.com TV become a household name for the younger generation? It's too soon to tell and, frankly, audiences may be too fractured at this point for one big winner. But Teen.com TV seems to have the right strategy, the right audience and the right approach both for this economy and for the broader shift in consumer viewing habits.