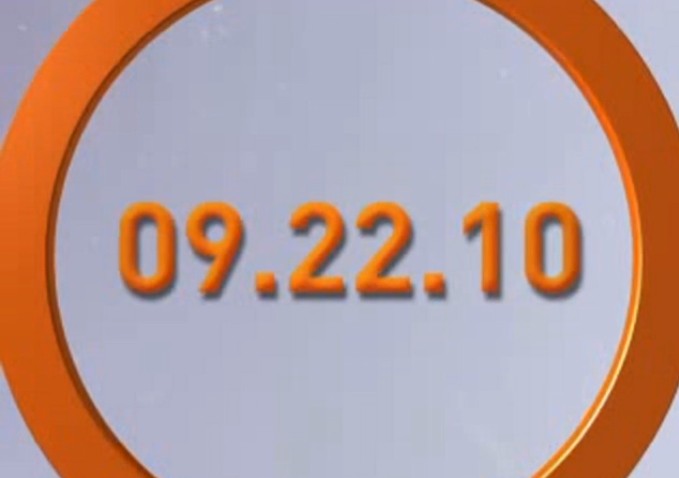 It's Wednesday, September 22, 2010 and Channel One News is cheating schools again. We would say they are sneaking in more advertising content over the two-minute contractual limit, but there is no "sneaking" to it.  This is just a blatant ad for a movie, but Channel One News refuses to acknowledge it as an ad.  Channel One says this is just two "special guests" helping kids  connect with the news.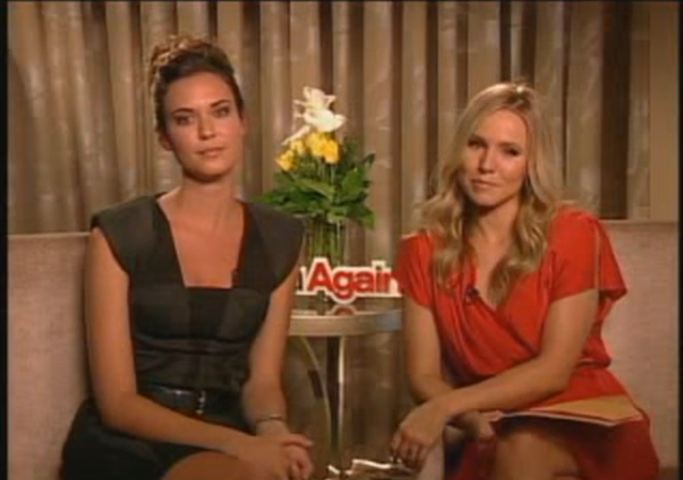 [SPECIAL GUESTS]
HI EVERYONE – I'M Kristen Bell AND I'M Odette Yustman – AND WE'RE FROM THE UPCOMING MOVIE "YOU AGAIN"
COMING UP WE'LL HAVE YOUR POP QUIZ BUT FIRST – CHANNEL ONE NEWS STARTS RIGHT NOW.
[STEVEN]  THANKS GUYS FOR STARTING US OFF TODAY – I'M STEVEN FABIAN – WE'LL CHECK IN WITH YOU GUYS LATER IN THE SHOW.
The very first thing after the date graphic is a shot of Odette Yustman and Kristen Bell. They are starring in a new movie called You Again. The movie comes out – what a coincidence! – this Friday, September 24.  Their job is to get as many children in Channel One's captive audience to buy tickets for their movie. Touchstone Pictures made a deal with Channel One News, and here are the actresses on classroom TV screens in 8,000 schools across the country.  There was no warning given to teachers. Teachers are constantly being surprised by what appears on Channel One's program.
Question: Is promoting a Hollywood movie the role of a public school?
Later in the show there is a pop quiz. Guess who pops up again?  How in the world is the producer for Channel One going to work this new movie into a pop quiz?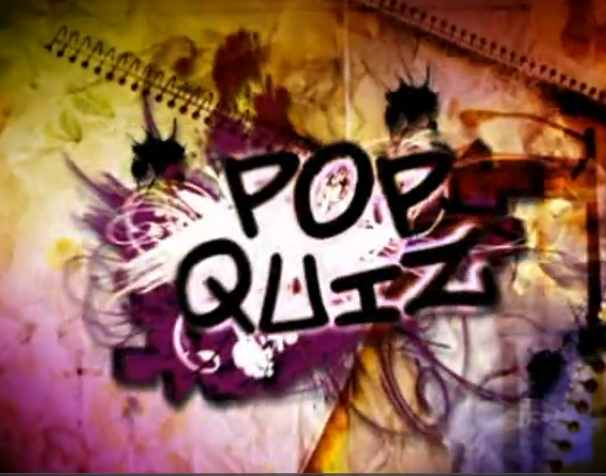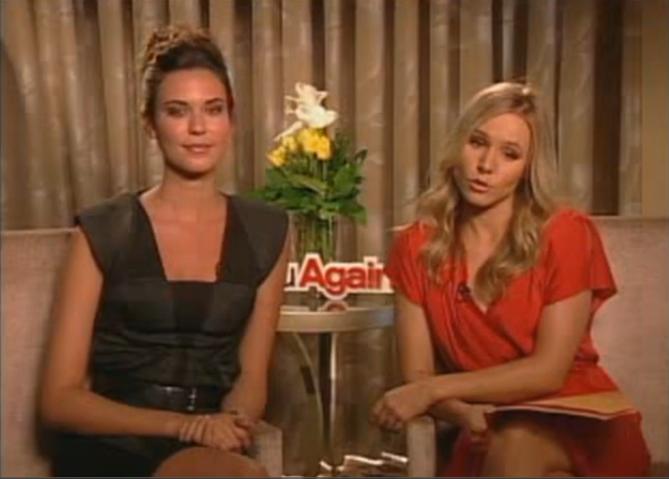 [SPECIAL GUESTS]
TIME FOR YOUR POP QUIZ – NOW IN OUR NEW MOVIE, YOU AGAIN, MY CHARACTER FINDS OUT THAT HER BROTHER IS GOING TO MARRY HER NEMESIS FROM HIGH SCHOOL. A GIRL THAT HARASSED AND BULLIED HER.
NOW THE WORD NEMESIS MEANS A RIVAL OR OPPONENT AND IT COMES FROM A CHARACTER IN GREEK MYTHOLOGY.
SO YOUR QUESTION IS – WHO WAS NEMESIS IN GREEK MYTHOLOGY?
IS IT:
A. THE GODDESS OF FATE
B. THE GOD OF KNOWLEDGE
C. THE GOD OF WAR
D. THE GODDESS OF RETRIBUTION
YOU HAVE TEN SECONDS.
OK, TIME'S UP!
THE ANSWER IS D – NEMESIS WAS THE GODDESS OF RETRIBUTION. AND CHANNEL ONE HAS THE STORY BEHIND THE MYTH.
We couldn't make this stuff up if we had to.  This is insulting to students, teachers and administrators. Of course Channel One executives like Kent Haehl and Paul Folkemer would say that the program is just trying to make education relevant to today's young people. And they can keep on saying that as schools continue to unplug Channel One News.