From Jim Metrock:
Got your attention?
As far as I know Channel One News is not considering advertising cigarettes. For that matter I have no information leading me to believe the company will start advertising automatic firearms, beer, abortion clinics, state lotteries, x-rated movies, or "head shops."
The reason I posted this headline is to bring attention to the fact that Channel One News is slowly, but very intentionally, beginning to advertise things they promise they would NEVER advertise.
As you see below, Channel One's homepage today is covered with ads for Tampax tampons.  I have written about this before:
Tampon Advertising Breaks New Ground on Channel One's Web Site
The amount of "real estate" Tampax has on the Channel One News homepage is much greater than before. Here's a product Channel One told schools they would not advertise and are – in a major way.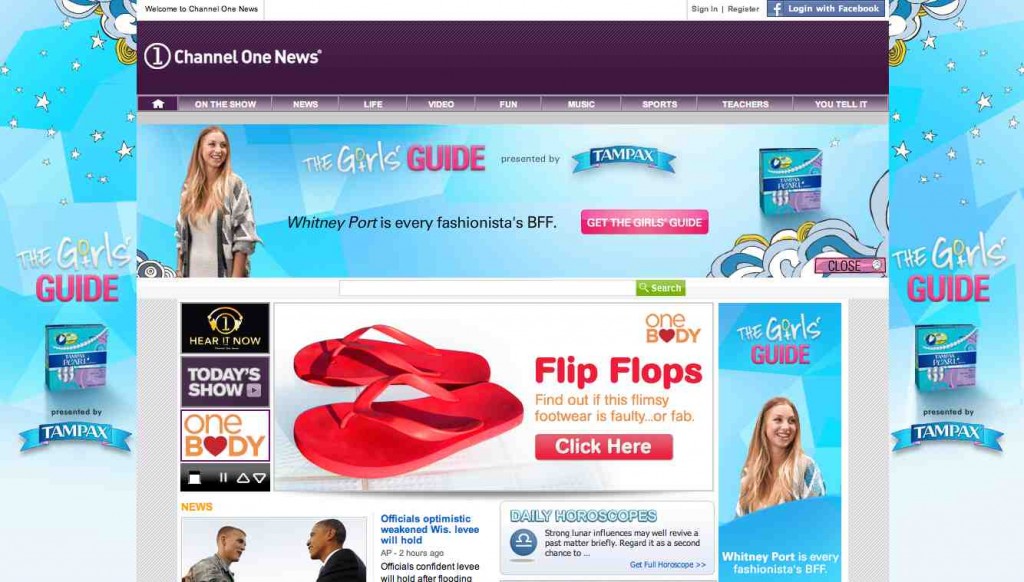 Below: Here is the wonderful and somewhat absurd list of things Channel One News vowed "will not be considered." I guess the key word is "considered." They could have said these products and services would "not be advertised" and that would be unambiguous.
I know there are many people, especially in education, that have a terrible opinion of Channel One News, but to those people I would say think how much of a sacrifice these kiddie marketers have made by self-limiting themselves with this list of products and services they will not consider advertising.  Think of the abortion clinic money Channel One's selfless executives have walked away from.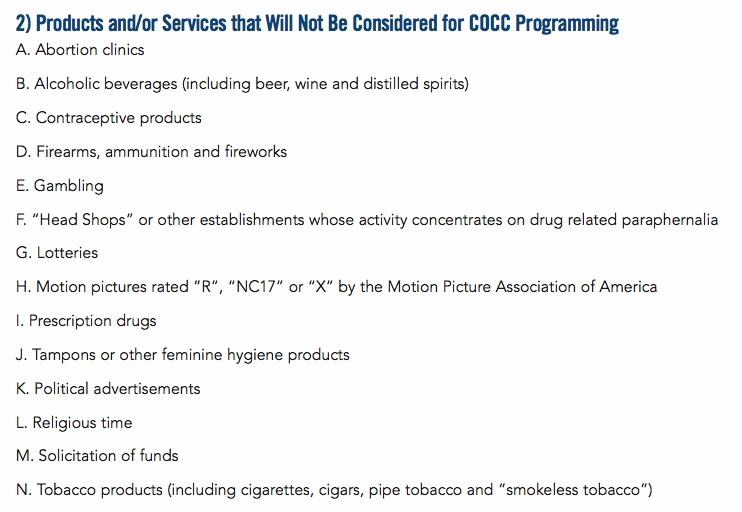 Channel One News has not only crossed off item "J," but also item "I"- prescription drugs.   They didn't do that! No way! Way.
August 16, 2008 – Prescription Ads ARE BACK
August 12, 2008 – Prescription Ads are Finally Removed
August 2, 2008 – No Reply from Folkemer
July 30, 2008 – Advocates to Channel One: Stop Marketing Prescription Drugs to Children
July 21, 2008 – Channel One Begins Advertising Prescription Drugs To Kids
Not only did Channel One advertise prescription acne medicine, but for years advertise Acuvue contact lens which of course need a prescription.
February 21, 2005 – Hard Sell Gets OK From Channel One News
March 22, 2004 – One Classroom Commercial
September 21, 2003 – If You Wear Glasses, You're Ugly!
One might be inclined to give Channel One a break by saying: This list of things they will not consider advertising only applies to the in-school TV show called Channel One News. The web is totally different than the TV show and therefore the web part of Channel One doesn't have to abide by this list.
The truth is Channelone.com is an extension of Channel One News. The TV show urges kids to go to Channelone.com at least three times each program.
Channel One News chose the language for their contract with care. The things on this list are not to be considered for "COCC Programming." That stands for the Channel One Communications Corporation which included the TV show AND website.  In 2007, when Alloy Media and Marketing took over Channel One they changed the company to Channel One, LLC.  Below is the language in newer versions of the contract.  Channel One, LLC includes the TV show AND the website. There is no other entity for either the TV show or website to be a part of.  So it is clear that the "Products and/or Services that Will Not Be Considered for COCC Programming" means it applies to Channel One, LLC and includes all things related to Channel One News.
Channel One News is evidently desperate for cash and, quite frankly, they may not be overly concerned that some parents and teachers will remember they made certain promises to schools and students.