Typical Channel One News.  This is a controversial topic and Channel One did not give teachers any warning that they were going to air the story.  Does this send a message to middle school students (Channel One's biggest, most loyal audience) that there's an alternative to taking notes in class?  Channel One News doesn't care.  This story is just meant to fill the space between the commercials.
Channel One overdoes their "values neutral" approach to stories. Here, selling class notes is illegal in part of the country, yet Channel One will ask 10-year-olds whether it is right or wrong.  If a student watches enough Channel One News they pretty quickly understand that there are few things in life that are "wrong." They simply may be wrong to some people.
Notice Channel One's reporter Steven Fabian says that California students may be stuck getting their notes the "old fashioned way in class."  What student wants to do something the "old fashioned way"?  This story could have been written to strongly encourage students to not take shortcuts with their education, but it wasn't because Channel One News has to remain "cool" with the students forced to watch their show.  They have to be a little "anti-establishment" to keep their street cred.
From Channel One's script today:
"HEY EVERYONE IT'S TUESDAY, OCTOBER 26TH. TODAY WE'VE GOT A STORY ABOUT A WEBSITE THAT'S CAUSING A STIR IN SOME CLASSROOMS…"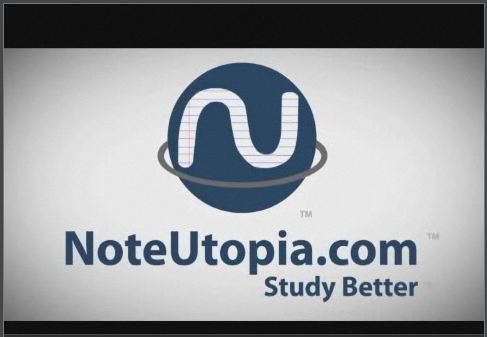 [SHELBY]
IT IS A LOT OF HARD WORK TAKING DETAILED NOTES DURING CLASS, BUT WHAT IF YOU COULD BUY THEM OFF YOUR CLASSMATES? WELL, A NEW CALIFORNIA-BASED WEBSITE IS CONNECTING STUDENTS TO DO JUST THAT AND STIRRING UP SOME CONTROVERSY. STEVEN FABIAN HAS THE STORY.
[STEVEN]
IT'S A NEW WEBSITE – WHERE YOU CAN TALK ABOUT YOUR CLASSES WITH OTHER STUDENTS RATE YOUR PROFESSORS EVEN. BUY AND SELL YOUR CLASS NOTES.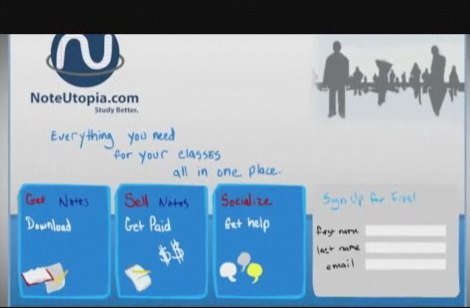 IT'S THAT LAST ONE – THAT'S GOTTEN A LOT OF ATTENTION LATELY
I think it's kind of cool.
yeah I think it's wrong to sell it.
EVEN THOUGH STUDENTS CAN POST NOTES FOR FREE, NOTE UTOPIA ALSO LET'S THEM SELL NOTES, KIND OF LIKE AN EBAY FOR COLLEGE CLASS NOTES – WHICH IS CATCHING THE EYE OF SOME CALIFORNIA COLLEGES.
THAT'S BECAUSE ACCORDING TO CALIFORNIA LAW, SELLING CLASS NOTES IS ILLEGAL.
EARLIER THIS MONTH, CALIFORNIA STATE UNIVERSITY ADMINISTRATION SENT A MASS EMAIL TO ITS 29,000 STUDENTS IN RESPONSE TO THE NEW SITE, WARNING THAT QUOTE,
"any CSU student selling class notes, including on the NoteUtopia website, is subject to discipline, up through and including expulsion from the University."
BUT SOME STUDENTS SAY – THEY SHOULD HAVE THE RIGHT
TO SELL THEIR NOTES.
I don't think that's right. We have right to sell our own words.
AND THAT'S PART OF THE QUESTION – ARE CLASS NOTES THE STUDENTS' OWN WORDS OR THE TEACHERS? IS SELLING NOTES MAKING A PROFIT OFF OF A TEACHERS WORK? DEPENDS ON WHO YOU ASK.
We pay for these classes. Once the teacher gives us the info it's our information.
I don't think you should go online and buy things cuz I do feel that's copyright violation for the teacher.
THE CAL STATE SYSTEM SAYS THEY ARE NOT PROHIBITTING STUDENTS FROM USING NOTE UTOPIA, JUST WARNING THAT *SELLING* CLASS NOTES IS ILLEGAL NO MATTER WHERE IT'S DONE. SHARING FOR FREE IS JUST FINE.
BUT, NOTE UTOPIA SAYS THE EMAIL WASN'T CLEAR ENOUGH, AND MADE IT SOUND LIKE THE SITE IS ILLEGAL WHICH IT'S NOT.
IN RESPONSE TO THE CAL STATE EMAIL, NOTE UTOPIA HAS POSTED GUIDELINES STATING THAT IF YOU'RE A CALIFORNIA STUDENT AND SELLING NOTES – YOU'LL BE KICKED OFF THE WEBSITE. THERE ARE STUDENTS FROM ABOUT 100 COLLEGES THAT HAVE SIGNED UP..AND FOR THE ONES OUTSIDE OF CALIFORNIA, SELLING NOTES IS STILL OKAY.
EITHER WAY, AT LEAST FOR NOW, STUDENTS IN CALIFORNIA MAY BE STUCK GETTING NOTES THE OLD FASHIONED WAY.IN CLASS.
STEVEN FABIAN, CHANNEL ONE NEWS
[SHELBY]
AND THAT BRINGS US TO TODAY'S YOUR TURN QUESTION –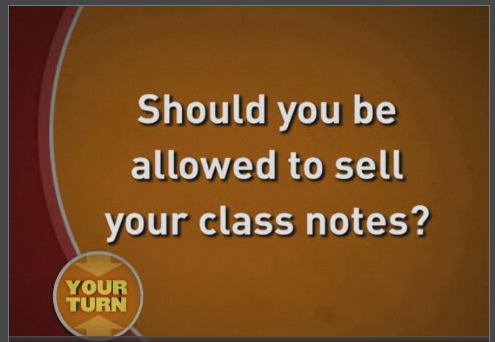 Should you be allowed to sell your class notes?
HEAD OVER TO CHANNEL ONE DOT COM AND CLICK ON YOUR TURN TO TELL US WHAT YOU THINK OR, GIVE US A CALL AT 1-877-CH1-VOTE AND LEAVE US A VOICEMAIL.
WE'LL CHECK OUT YOUR RESPONSES TOMORROW.