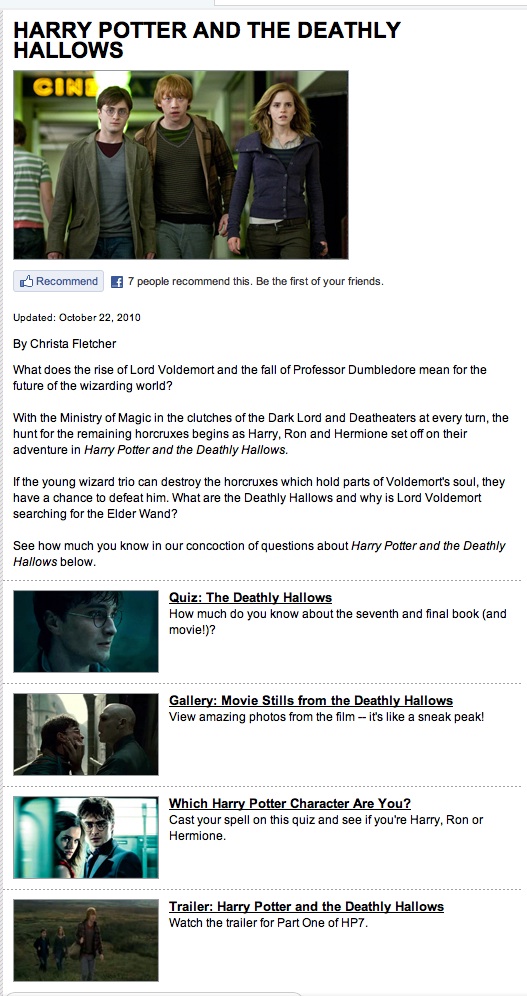 This is one of the webpages Channel One News devoted to plugging the new Harry Potter movie. Channel One also ran commercials for the movie on the in-classroom TV show and ran video ads on its website.
They also aired "news" stories whose purpose was to pitch the movie in a more subtle way to teens and pre-teens. Check out this clip from November 15, 2010.  We will later write about other content in this clip.
From Channel One News script for November 15, 2010:
[ALI]
IT'S BEING CALLED 'THE BEGINNING OF THE END' AS 'HARRY POTTER AND THE DEATHLY HALLOWS' IS RELEASED INTO THEATERS THIS WEEK.
THE WORLD'S MOST FAMOUS WIZARD IS GETTING READY TO HANG UP HIS WAND FOR GOOD.
THE FINALE IS SPLIT OVER TWO FILMS – AND THE LAST HALF IS EXPECTED NEXT SUMMER.
THE FIRST HARRY POTTER MOVIE CAME OUT 10 YEARS AGO AND SINCE THEN IT HAS RAKED IN 5 AND A HALF BILLION DOLLARS ACROSS THE GLOBE.
AND IF YOU KNOW THE MOVIE – THEN YOU KNOW THE FAMOUS SPORT OF QUIDDITCH. BUT IT'S NOT JUST ON THE BIG SCREEN ANYMORE.
PLAYERS FROM 16 STATES AND 46 COLLEGES – SWOOPED INTO NEW YORK CITY OVER THE WEEKEND FOR THE QUIDDITCH WORLD CUP.
QUIDDITCH IS DESCRIBED AS A CROSS BETWEEN RUGBY, DODGE BALL AND TAG.
LIKE THE MOVIE – PLAYERS RIDE ON BROOMSTICKS. JUST WITHOUT THE MAGIC.
AND IF YOU THINK THIS SPORT ISN'T REALLY A SPORT? THINK AGAIN.
People say you're playing quidditch that's so nerdy but we say watch the game! / It's a contact sport. It's a lot rougher than they think!!! *******
PLAYERS DO ADMIT, TRANSFORMING A GAME THAT REQUIRES MAGIC IN MOVIES REQUIRES A LITTLE BIT OF IMAGINATION.
[JUSTIN]
ALRIGHT ALI – AND ON THAT NOTE – WE PICKED OUT A GREAT MOVE FROM THE QUIDDITCH WORLD CUP FOR OUR PLAY OF THE WEEK. CHECK THIS OUT —
KEEP YOUR EYE ON THE MICHIGAN STATE UNIVERSITY PLAYER IN GREEN HOLDING THE BALL – CALLED A QUAFFLE.
SHE GOES UP TO SCORE = BUT AFTER A BLOCK = SHE FAKES OUT THE KEEPER AND PUTS IT IN THE OTHER HOOP FOR A SCORE
LET'S SEE THAT IN SLOW-MO
ALRIGHT GUYS, WE NEED YOU TO *STEP UP TO THE PLATE*! NEXT TIME YOU HEAD TO THE HOME GAME OR MATCH, DON'T FORGET YOUR CELL PHONE.
CAPTURE A GREAT PLAY JUST LIKE THIS.
UPLOAD IT TO CHANNEL ONE DOT COM WHEN YOU GET HOME.
AND THEN WE COULD GIVE YOU A *SHOUT OUT* ON PLAY OF THE WEEK NEXT MONDAY.