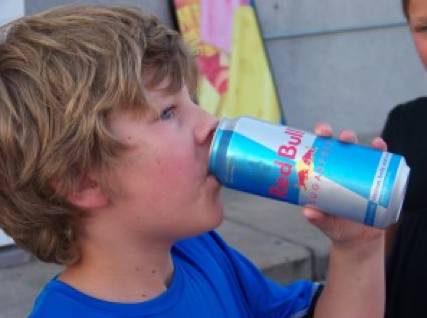 Channel One News uses "news" stories to get Red Bull brand in front of students.
Red Bull uses Channel One News to get the very youngest secondary school students interested in high-caffeine drinks.
Check out:  http://www.obligation.org/2011-02-02-how-channel-one-news-cleverly-advertises-redbull-energy-drink-to-middle-school-students
News story today from NBC Miami:
A study issued Monday from the University of Miami School of Medicinesays energy drinks could pose a risk for serious adverse health effects in some children, especially those with diabetes, seizures, cardiac abnormalities or mood and behavior disorders.
The study, called "Health Effects of Energy Drinks on Children, Adolescents, and Young Adults," says the energy drinks "have no therapeutic benefit to children, and both the known and unknown properties of the ingredients, combined with reports of toxicity, may put some children at risk for adverse health events."
According to study surveys, adolescents account for half of the energy drink market, and as many as 50 percent have reported consuming energy drinks.
The study itself:
Health Effects of 

Energy

Drinks

on Children, Adolescents, and Young Adults
http://pediatrics.aappublications.org/cgi/content/abstract/peds.2009-3592v1?maxtoshow=&hits=10&RESULTFORMAT=&fulltext=energy+drinks&searchid=1&FIRSTINDEX=0&sortspec=relevance&resourcetype=HWCIT
From Jim Metrock:
Today I sent Dr. Paul D. Folkemer, a top-ranking executive at Channel One and the self-described "Channel One child advocate," an email asking Channel One News to stop all direct and indirect promotion of Red Bull and any other energy drink on their classroom TV show and on their website.
Dr. Folkemer is not the most responsive marketing executive in the country, but if he does reply, I will post it.