Screen shot of Channelone.com April 24, 2011. Zapzyt, Acuvue contact lens, and Tampax products are not suppose to be advertised on Channel One.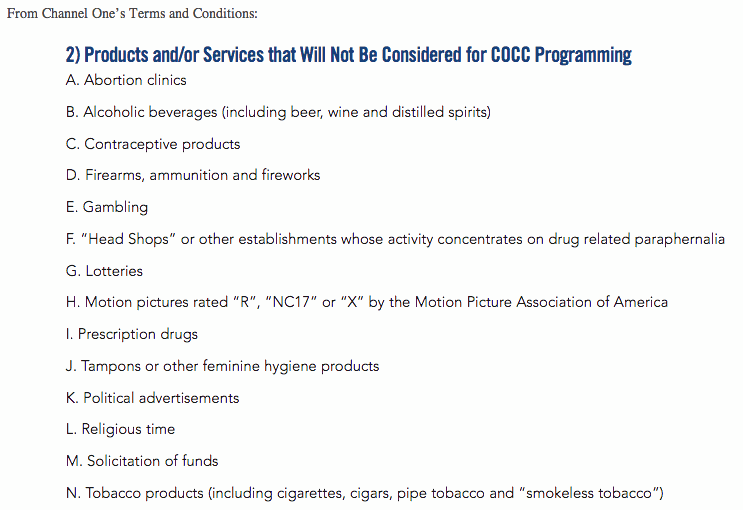 From Jim Metrock:
You would think even the kiddie marketing gurus at Channel One News could adhere to their ludicrous listing of things they promised they would not advertise.  Alas, when the cash gets low, as it has with Channel One, then it's time to reconsider these silly promises.
Zapzyt is the top ad in the image above.  Channel One News was caught aggressively advertising this product in 2004. http://www.obligation.org/2004-10-18-channel-one-news-zapzyt
This product got in trouble with the Children's Advertising Review Unit (CARU). Because the product contains an extremely high percentage of benzoyl peroxide (10%), the product had to have serious warning statements on its packaging. CARU said you can't advertise this on TV shows directed at children. Obligation filed a complaint with CARU and they wrote Channel One and the ads disappeared from the classroom TV show and the Channelone.com web site.
This product is an equivalent to a prescription drug and the company promotes it that way. "…it offers the same maximum-strength formula recommended by dermatologists, at a fraction of the price of prescription products."
Nothing has changed with this product or with CARU's standards. Channel One is intentional advertising a product it knows it shouldn't.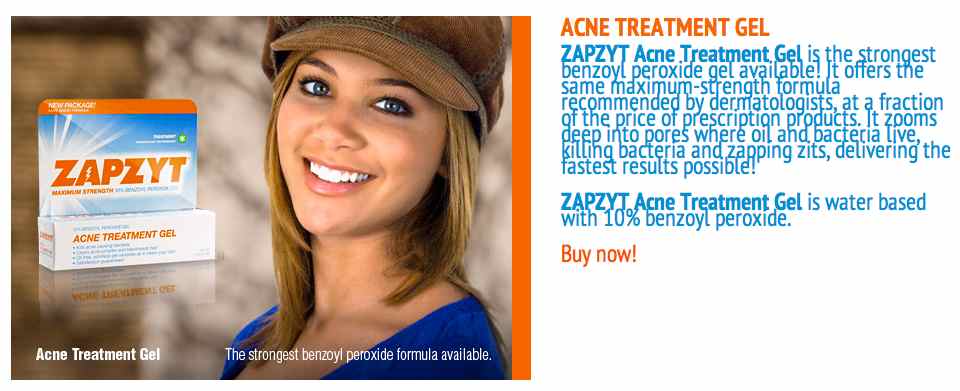 In 2005, the Alabama State Board of Education passed a resolution specifically targeting Channel One News which recommended that Channel One refrain from advertising over-the-counter drugs to Alabama schoolchildren.  Channel One's lobbyist urged board members to vote against this simple, common sense resolution, but it passed overwhelmingly. http://www.obligation.org/2005-02-10-channel-one-suffers-major-setback-in-alabama
In 2008, Obligation busted Channel One for advertising honest-to-goodness real prescription drugs to kids. http://www.obligation.org/2008-07-21-channel-one-begins-advertising-prescription-drugs-to-kids Channel One pulled the ads, but only because Obligation told the public about them.
There is also an Acuvue ad above. This is a prescription product. Acuvue ads on Channel One have been some of the most disagreeable ads I have seen on the show. Acuvue's intention is to first make young people feel absolutely ugly if they wear glasses, and then sell them on contact lens. [See for yourself: "I rather be blind (than to wear glasses.", "I felt like my glasses were hurting the team."]
And although Channel One stated they would not advertise "Tampons or other feminine hygiene products," Tampax is now a major sponsor.
Channel One News gets into schools by making a series of promises. Most schools don't know that some of those promises are being broken on a daily basis.
Since 2010 Channel One News has enforced a blackout of it commercials from its web-rebroadcast. That is of great concern, because it is nearly impossible for the public to know what products are being advertised on the show. If they were proud of what they were advertising, they would not have have blacked out both 1-minute long commercial breaks from their daily program. [See for yourself: http://www.channelone.com/video/ ]
In Channel One's defense I will go on the record and state I am 99% sure they would never, ever advertise beer, cigarettes, or hand guns in the classroom.