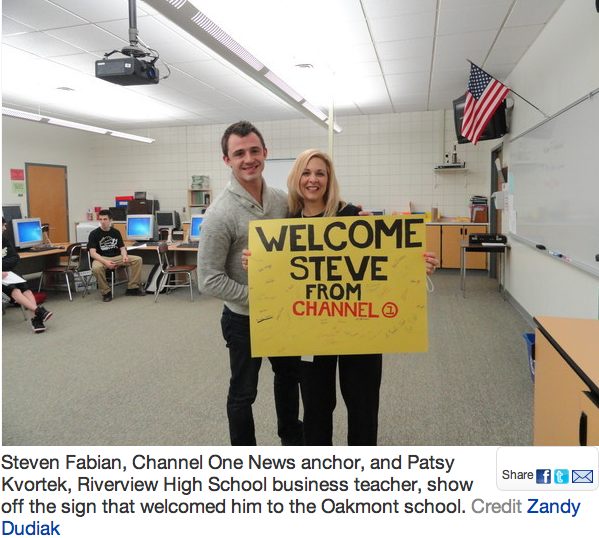 April 18, 2011 –
One can't think too highly of the administration at Riverview High School in Oakmont, PA.
First they evidently are still showing Channel One News to their students. If these administrators and school board members think watching movie commercials and video game commercials is a good use of taxpayer-funded school time, then one has to believe there are many other deficiencies at this school.
To allow students to be used in a Channel One commercial (for Channel One itself) is not too smart.  To allow students to do this "Shout Out" and not have them compensated by Channel One is really not smart. These students deserve to be paid at least $250. When a company wants to appear on Channel One News to sell something, you better believe Channel One demands that the advertiser pays up before the camera is turned on, so it should be the same for these Riverview High students who are doing an enormous favor promoting this struggling marketing company.
We've added the picture of Steven Lisowski aka Steven Fabian at the end of this video clip to show that the Riverview students were filmed evidently with a cell phone or Flip camera. How Channel One has fallen! They probably had to pawn their real digital video cameras that legitimate news gathering organizations use.
Email sent to the teacher who allowed her class to do this promotional video for Channel One and to various Riverview district administrators:
April 26, 2011
Dear Ms. Kvortek
It was disturbing to see one of your classes do a "Shout Out" commercial for Channel One News on April 18.
I run a nonprofit that has been researching and reporting on Channel One since 1997. What happened with your class I think is newsworthy.
I have written an article (@ 
obligation.org
) about how your class was used by Channel One to promote their show – all on Pennsylvania taxpayer-funded school time.  It is difficult to understand how you, a government employee, could justify coordinating the use of students to do a promotion for a private school vendor. I am sure this could not have happened without the approval of your principal Mr. Moser.
But forgetting about the wrong done to taxpayers, there is a wrong done to students (other than the obvious loss of school time).
You teach business classes at Riverview. Did you ever consider asking Channel One to pay each student who appeared in the commercial spot? Riverview High School students should have been compensated for their efforts to plug this struggling commercial TV show.
Not only did your students allow their likenesses to be used by this company, but all also spoke during the clip. All of these seniors should have received compensation for their appearance on this national program. Up to six million students across the country are compelled under force of contract to be shown Channel One News daily. Also this "Shout Out" was rebroadcasted on Channelone.com.
I'm not an expert on the subject, but based on a few web articles I've read, I think each of your students easily could have justified being paid $250-$600 each for appearing in this spot. The two young men featured at the first of the spot could be due even more compensation.
I don't think you should have allowed Channel One to use any of your students in their self-promotion, but once you decided you were fine with that you should have looked after your their interests instead of Channel One's.
Channel One does these school "Shout Outs" because they want to stop the massive loss of schools they have experienced since 2003. Between 2003 and 2010, Channel One News has had a net average loss of 11 school per week – for 364 consecutive weeks. Schools that are serious about academics simply cannot justify wasting time showing Channel One's hyper-commercial TV show.
Schools that still have Channel One tend to breach their contract by showing Channel One a few days a week.  It is important for the company to show schools yelling out "Channel One News starts now" to help other schools feel good about continuing with Channel One.  "Well look, Riverview High appears to love Channel One News. Maybe we should reconsider ending our contract."
If you would like to reply to anything I have said, I will post your comments, if you like, on Obligation.org.
Jim Metrock
—
Obligation, Inc.
P. O. Box 26270
Birmingham, AL 35260
205.822.0080
obligation.org
Promoting What Helps Children, Changing What Harms Them
http://plum-oakmont.patch.com/articles/channel-one-news-anchor-visits-riverview-high-school