From Jim Metrock: This article is from November, 2009. It's not that long ago but it is important to revisit it in light of Channel One's announcement this week that they will be targeting elementary school children for the first time.
Channel One News has not made public their plans for elementary school kids. They will probably not have regular 30-second commercials on the younger broadcast, but Channel One News has saturated their secondary school program with sponsored feature stories and they have woven advertising into news and features stories. They don't consider these forms of advertising as "commercials." One thing Channel One will probably do is drive elementary school kids to their website channelone.com which is saturated with advertising.  This article shows how ugly that web advertising can get.
——————————-
From November 16, 2009 Destructo Doll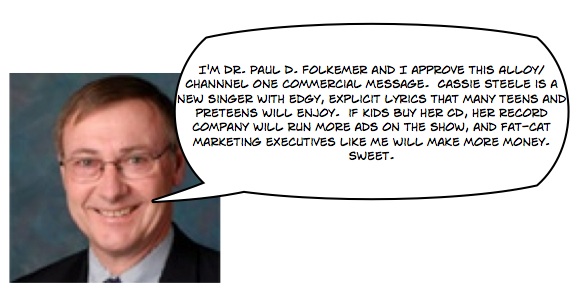 Obligation can't get Dr. Folkemer to answer our emails, so we put some words in his mouth. This is what we think this educator-turned-Kiddie Marketer would say. Dr. Folkemer is one of the few remaining executives at Alloy/Channel One News. He is certainly familiar with everything the company is advertising to teens and preteens.
__________________________________________________________________________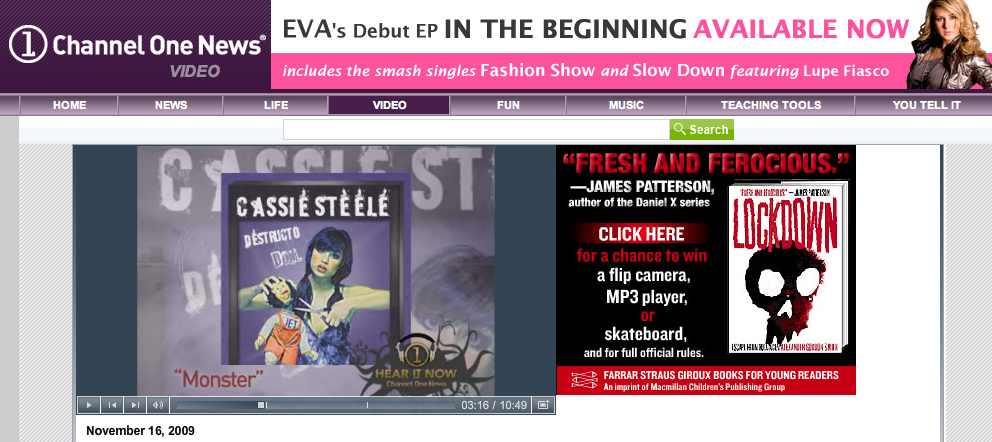 Above is a screen grab of Channel One News' rebroadcast of their in-classroom TV show. We froze the replay as the show was about to go to a commercial break. (The TV show is playing on the left where you see "Monster" and "Hear It Now.") This is the only ad we can see since Channel One is currently blacking out all regular commercials on the webcast. This prevents parents and the public from seeing what the company is pitching to kids, but at least we see this one ad.
This article is about Channel One News' decision to advertise a recording artist named Cassie Steele to middle school students, but parents and educators should also notice the top banner ad that mentions the very explicit artist Lupe Fiasco. Also to the right is another ad for the terrifying new "teen" novel "Lockdown." These three ads show how tasteless, ugly, and reckless Channel One News has become.
__________________________________________________________________________
On today's show (November 16, 2009) Channel One News saturated their "news show" with music from "Destructo Doll" the second CD by Cassie Steele. You see the cover of the CD above. Keep in mind, what you see above is a frame of what was actually shown in the classroom. Kids see the name of the Cassie Steele song playing as this ad is on the screen and they see the CD cover which depicts her using a pair of scissors to cut the head off a doll. We don't know the significance of this image or why Channel One News thought this was appropriate for classroom viewing.
What we do know is if Channel One News is successful and gets a lot of kids to buy Cassie Steele's CD Destructo Doll, the first song children will hear is "Groupie."
Below are the lyrics. These lyrics don't shock the kiddie marketers at Alloy Media and Marketing and Channel One News, but they will shock most parents. Add Cassie Steele to the reasons why schools should throw Dr. Folkemer and CEO Kent Haehl and their sleazy advertising into the dumpster. It's time to turn off Channel One News.
Groupie by Cassie Steele
Destructo Doll CD
I ain't never seen tighter jeans
Than I did on Ms. Jacqueline
Saw her in the crowd she screamed
Baby put your sex on me
Called her up after my show
Brought her back to the bus and on the floor
Smacked that till she asked for more
Sorry babe I've got to go
Hey baby, gotta hit the road
Thank you for this episode
I'd love you if you'd let me
Call you when I'm in your city
Ain't nothing like groupie love
Short and sweet and hot as f***
I'd love you if you'd let me
Call you when I'm in your city
I've never had lips so sweet
Since Mary Jane was off her feet
Saw her in the crowd, she screamed
Baby can you handle me?
Called her up after my show
Brought her back to the bus, took off her clothes
Handled her with my full force
Sorry babe I've got to go
Hey baby, gotta hit the road
Thank you for this episode
I'd love you if you'd let me
Call you when I'm in your city
Ain't nothing like groupie love
Short and sweet and hot as f***
I'd love you if you'd let me
Call you when I'm in your city
I don't like the feeling I get alone
Groupies offer the love that heats my bones
I've never seen tighter jeans
Than I did on Ms. Jacqueline
Saw her in the crowd, she screamed
Baby put your sex on me
Hey baby, gotta hit the road
Thank you for this episode
I'd love you if you'd let me
Call you when I'm in your city
Ain't nothing like groupie love
Short and sweet and hot as f***
I'd love you if you'd let me
Call you when I'm in your city