Channel One in free fall? In 72 days Channel One News loses 500,000 student viewers. 
School districts appear to have dumped Channel One in record numbers in months leading up to the start of 2011-12 school year.
Stunning loss of 8.3% of its student audience.
From Jim Metrock:
Yesterday, September 7, a Channel One press release stated their student audience is now "nearly 5.5 million." This compares unfavorably with a June 27, 2011 Channel One press release which stated they had an audience of "nearly 6 million." These are not the guesses of an outside party.  These figures came directly from the company. Although Channel One is always vague with their audience numbers using terms like "nearly" or "about" or "over," these vague statements should be considered official.
Below you can see the documented proof of Channel One's incredible collapse since 2000-2001.
Channel One News has been steadily losing schools for a decade.  There is little the company can do to stop the exodus. They do have sales people who try to sign up new schools and occasionally, like in Starkville, MS, they succeed, but they always lose more than they gain – a lot more.
Congratulations to those schools who reclaimed their school time by ending their contracts with Channel One.  I anticipate the losses will pick up steam throughout the 2011-12 school year.
1998 _______________________________________________
Audience:
Schools: "more than 12,000"
Classrooms:
Documentation: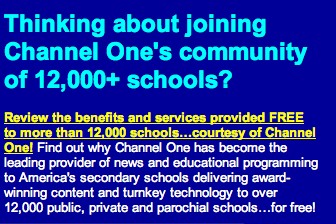 1999 _______________________________________________
Audience: "more than 8 million"
Schools: "more than 12,000"
Classrooms: "440,000"
Documentation: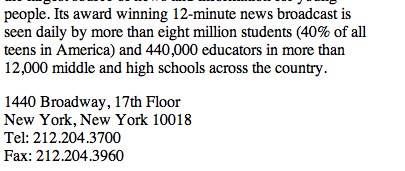 1999 _______________________________________________
Audience: "8.1 million"
Schools:
Classrooms:
Documentation: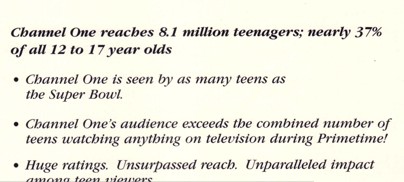 2000 _______________________________________________
Audience: "over 8 million"
Schools: "12,000"
Classrooms: "400,000"
Documentation:

2002 _______________________________________________
Audience: "nearly 8 million"
Schools:
Classrooms: "over 350,000"
Documentation:

2003 ______________________________________________________
Audience: "nearly 8 million"
Schools: "nearly 12,000"
Classrooms:
Documentation: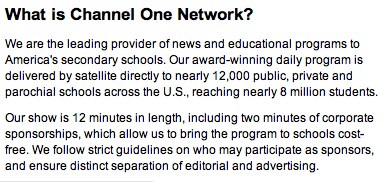 July, 2005 _______________________________________________
Audience: "over 7.7 million"
Schools:
Classrooms: "over 350,000"
Documentation:

December 20, 2005 _______________________________________________
Audience: "more than 7 million"
Schools: "11,000"
Classrooms: "over 300,000"
Documentation:

June 27, 2011 _______________________________________________
Audience: "nearly 6 million"
Schools:
Classrooms:
Documentation:

September 7, 2011 _______________________________________________
Audience: "nearly 5.5 million"
Schools:
Classrooms:
Documentation: