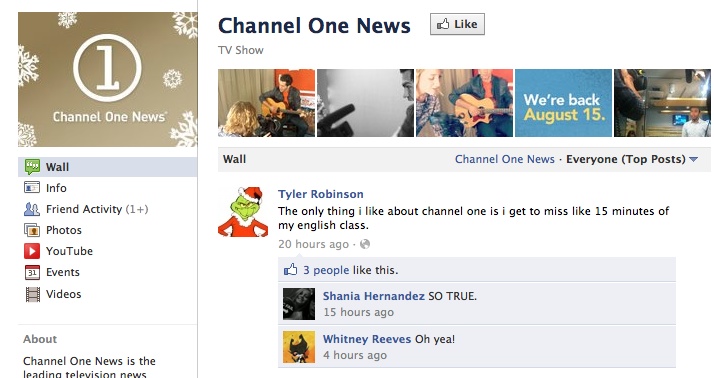 From Jim Metrock:
How fitting. Yesterday I wrote about the Grinches at Channel One News who rob children of their academic time in school. 
Today I find the latest post on Channel One's Facebook page by a student who thinks the best thing about Channel One News is wasting 15 minutes of English class. The student doesn't realize that he is suffering a tremendous personal loss at the hands of the mean, greedy Grinches at Channel One. He thinks watching movie ads instead of learning more English is a good thing. Of course, it's a bad thing. A very bad thing.
Only the Grinches at Channel One benefit from this student and millions of others losing academic time to watch Channel One commercials.
Again, here are the names of the few, remaining Channel One Grinches:
Kent Haehl
Dr. Paul Folkemer
Scott Evans
Shelby Holliday
Sharon Song
Evan Groll
Sarah Mirza
Gary Hamilton
Zachary Carr-Dreher
Kristin Sachau
Karen Knapstein
Jessica Rojas
Kristen Brody
KK Libby
Jason Witmer
Steve Tiszenkel
Kitama Cahill-Jackson
Jessica Kumari
 A big "bah humbug" to the above people. Exploiting schoolchildren is not cool, Channel One employees.  All of you are on Santa's and the public's Naughty List.