Updated May 16, 2012:
From Jim Metrock:
The "Yuck Factor" when it comes to Channel One at Warner Middle School has just soared.  A parent sent me a link to the school handbook where the school's devotion to the hyper-commercial Channel One TV show is clear.
So here's the deal at Warner Middle School in Xenia, Ohio: A student must be sitting at his or her desk when the 7:30 tardy bell rings. If a student is late, he or she must report to the Counselors' Office to be admitted. After 3 tardies in a 9-week period students start getting detention.
Sounds like a no-nonsense middle school that values school time. Yet… the school day starts with a "Home Base" non-instructional period that is 15 minutes long. How long does it take to check off the attendance report if all students are required to be "seated" at 7:30? It is obvious that this non-academic period is made artificially longer than it needs to be so the school can accommodate the hyper-commercial and very controversial Channel One TV show. (Although CBS News allows production of the program in their studios, Channel One is a youth marketing company that has always been run by advertising and marketing executives. It is owned by Alloy Media and Marketing which is in turn owned by Zelnick "Grand Thief Auto" Media. Channel One "wraps" themselves with a thin layer of news so they can get their advertising to a captive audience of schoolchildren.)
I can only imagine Mike Early the Warner principal walking into a Home Base period to see the students watching a movie trailer for a movie coming to Xenia theaters that Friday. He may smile and walk on and miss the irony of the situation, but parents won't – if only more Xenia parents knew this was going on and has been going on for years.
So hurry up Warner students and get to your desks so you can catch up on a little bit of yesterday's news (the show is taped) and a lot of entertainment news so you can plan your weekend. Today May 16 Warner Middle School students heard music from and saw a commercial for a rock band called The Royalty.  "Gee, Principal Early, you're swell!"
Where is the Xenia Community School Board when you need them?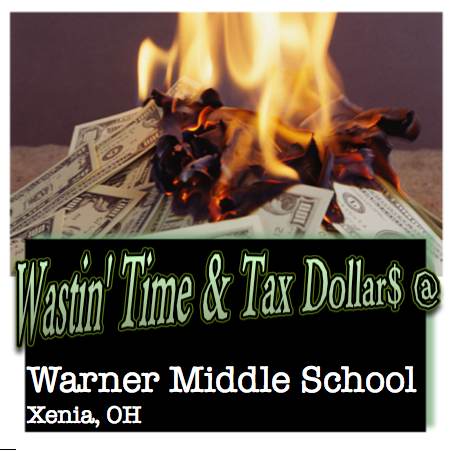 From Jim Metrock:
This time a school in mid-Ohio gets nominated for the Wastin' Time & Tax Dollar$ Award. Movie commercials and other commercials have been a part of the Warner Middle School school day for years. I recently stopped by Warner to see if Mike Early the principal would talk to me about his school's use of Channel One. He was at a hearing (my sympathy). I tried to speak with Angie Reed the media specialist but the central office was very defensive when I mentioned "Channel One." They didn't want me to speak with anyone about Channel One.
I left my card and asked for Principal Early to call me. Of course, he didn't. Still if Warner wins the award I would be happy to come back to Xenia and give the school the $250 prize.