From Jim Metrock:
 About.com had a large "adult" pornographic section when Channel One's parent company (at the time) Primedia bought the website in late 2000. Because of an Obligation press release the New York Post wrote about Primedia and their plan to own About.com and their porn content.  I knew that Channel One News would be pitching About.com to its captive audience of high school and middle school students. I had been reporting on Channel One News for four years at that point and I was fully aware of the company's reckless promotion of its sister companies.
 Because of public pressure, which I would like to think started with Obligation's press release, Primedia announced they would be removing all porn from the site. But at first they didn't. After they bought About.com Primedia thought they could simply "wall off" the content.  Channel One News began heavily advertising About.com – as I forecasted – in early 2001 when porn was still on About.com's servers. I was writing Channel One's self-described "child advocate" Dr. Paul Folkemer trying to get him to stop approving the About.com ads but he either wouldn't do it or he couldn't do it.
Parents and teachers should have been very upset with Channel One's ads for About.com during this period when pornography was part of About.com's business model. But parents and teachers didn't know. That's the problem with Channel One's advertising: few people have the time to research the companies, websites, products, movies, and other stuff that Channel One News solely decides will be advertised in classrooms.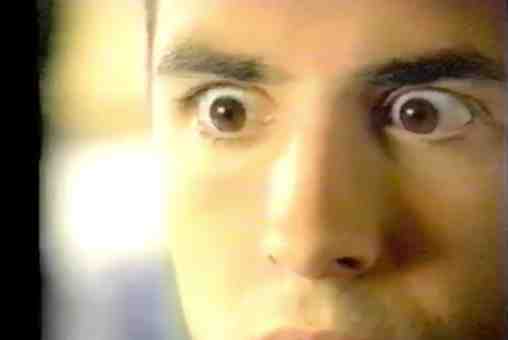 1998: Because Channel One News was advertising websites that had pornographic content, the company lost all 18 schools in Shelby County, AL.
Let's go back even further in time to 1998. The school board of Shelby County (AL) was considering removing Channel One from its 18 schools. I was attending a September 1, 1998 board meeting that had the removal of Channel One on the agenda, when a man walked in the room. Dr. Paul Folkemer arrived and let everyone know in this Columbiana, AL boardroom that he had been recently hired by Channel One to be their VP of Education and he had flown all the way from New York City to show how much Channel One News cared about Shelby County schools.
That was the first time I met Dr. Folkemer and found him to be a likable person. I am sure that was one reason he was hired. He was friendly. He wanted to solve problems. He was a former middle school principal. He looked nothing like an executive at a youth marketing firm.
He made an impression on some of the board. He was folksy and good humored. Then Dr. Folkemer got hit in the face… hard.
Folkemer had already assured the board that he knew the company well, both the in-school TV show and the companion website.  (Even though he was just hired, for several years before Folkemer worked closely with Channel One to promote the company even though he was a school principal and a Ridgewood, NJ public employee.) He told the board that he approved all advertising on both which was a big deal since he implied that his personal standards as a former middle school principal were higher than the everyday marketing people in Channel One's sales department. He wouldn't let anything be advertised to kids that was in any way controversial.
To explain what happened next to Dr. Folkemer in that boardroom, I am reposting a September 10, 1998 Obligation article:
The incredible Shelby County Board of Education meeting on September 1 has affected Channel One nationwide. Because of that meeting Channel One has temporarily ended their potentially dangerous chat rooms and message boards. They have also removed all advertising. (That hurts them.) They have also removed their "Entertainment" section. Also they ended their "Life" section that gave children advice on sex and dating and had a report that told kids how to cheat on book reports. This national marketing company changed its web site from one school board meeting.
Channel One, which has had a policy of never sending representatives to local boards to defend its program, sent two to Columbiana, AL to present their side of Channel One. Paul Folkemer, the newly-hired VP of Education, and a Channel One lobbyist came from New York City. Mr. Folkemer is a nice guy. He is a former middle school principal that has been a big Channel One fan for years he says. You would like this fellow to be your child's principal. But now he is pushing a bad product and he got an earful at the Shelby County meeting.
I had never talked to any Shelby County board members before this meeting. These folks asked hard questions of Mr. Folkemer. Board member, Steve Martin, asked "Do you spend more time reviewing the ads or the news?" Answer: "The ads. That takes the time." (Wrong answer to give to a school board member.) Another board member said he has seen a lot of Channel One news reports and called them "sophomoric". Then Trey Ireland reestablished, by questioning, that Mr. Folkemer was in charge of reviewing all the ads on the TV show and the web site. Mr. Folkemer said he was proud of rejecting ads that didn't meet his standards for students. He wanted to have the board feel comfortable that a former educator was watching over things. Mr. Ireland gave him plenty of space to discount his authority in that review process, but the Channel One executive didn't see what was coming.
Mr. Ireland hands out a 50-page bound report that documents many sexually-explicit sites that can be reached by clicking on Channel One advertiser banners on their web site. Mr. Ireland asked Mr. Folkemer if he has ever heard of "Spree.com". "No, sir," he said. I was shocked. I knew that "spree.com" was a big-time Channel One advertiser that had been on the site for a long time. How could the man in charge of reviewing ads directed at our kids not know that company? Ireland continued – "What about 'TalkCity.com"? "I don't know that company." There were others: GoTo.com, The Globe, Mr. Showbiz.
Mr. Ireland listed a brief description of content kids could reach from these Channel One advertisers: 
Spree.com – "98 Playboy movies, 63 nude books"
Go To.com – "Hey Girls – Win a free trip to New York to see Howard Stern"
The Globe.com – chat groups for "gays, lesbians, and bisexuals"
Talk City.com – encourages kids to "Upload a Photo", Homosexual bulletin boards, "Encourages kids to send pictures to professed homosexuals"
Mr. Showbiz – "movie reviews for R-rated movies"
(Obligation had documented previous links to adult videos and hard-core pornographic pictures on seemingly innocent Channel One web advertisements.)
Mr. Folkemer then told the board that these sites may have been on the Channel One web site before he came on board. Mr. Ireland said, "What about last Tuesday?" Even I felt uncomfortable for the Channel One executive. Mr. Folkemer then said he really hadn't been actively involved in the web site until recently. The damage was done.
The Channel One representative standing before the Shelby County School Board did not know his product. The board knew more then he did. Mr. Folkemer was there to defend a TV show and even before the web site debacle, he chose not to show any of the program. He left a recent program on a tape for the board to review if they liked but the only Channel One that was shown was by me when I made my presentation first.
[It is interesting to note that the Channel One reps flew down from a state (New York) that does not allow Channel One anywhere near a public school classroom. Channel One is outlawed from public classrooms. They came to Alabama to convince us that we need to give up a week's worth of our children's school time to their marketing company. – That doesn't go over well.]
I seriously doubt if any Channel One executive, other than folks from their Atlanta regional office, will ever come back to Alabama. Our second largest school system, Jefferson County, has tried to get an executive from New York to come down to meet with their review committee, but they apparently are not coming. I don't blame them.
I would like to say that Mrs. Pat Ellis's and my presentation and was so over-powering that it moved the Shelby County board to take action on Channel One. Although, I think we did well, it was this board of lay people, dedicated to improving the educational opportunities for their students, that was so well prepared that they got right to the heart of the matter.
(They vote on keeping Channel One on September 17.)
Since that meeting, I have received confirmation of an extraordinary letter from Shelby Count principals and assistant principals that says they desire to end the Channel One contract. They want new equipment to replace the Channel One equipment, which is understandable. This letter from principals will have a big impact across our state.
### End of 1998 article
[Note: On September 17, 1998 the Shelby County board overwhelming voted to remove Channel One from all 18 schools.]
Jim Metrock: What I did not mention in that September 1998 article was another Channel One advertiser was The Mining Company website. Shelby County board members quizzed Dr. Folkemer about that website since it also conveyed visitors to pornographic content. Folkemer professed ignorance again.
After this public humiliation, Dr. Folkemer went back to New York and did indeed remove advertising links to the above mentioned websites. What ties this 1998 story to the 2000 About.com story is the fact that the truly offensive Mining Company website changed its name to, you guessed it, About.com. Then they come back, with more pornographic content, to become a sister company of Channel One News.
http://www.obligation.org/2000-11-14-i-visited-about-com-soon-to-be-a-sister-company-of-channel-one
http://www.obligation.org/2001-01-27-about-com-back-big-time-on-channel-one