From Jim Metrock:  Summer is the time for schools to dump Channel One. During the summer months, when fewer students are in the building, it is so much easier to remove Channel One's antiquated "technology" (read: old, analog TV sets) from classrooms .  
After last summer Channel One quietly posted on their website that their student audience was down to "nearly 5 million."  Read the article below from last October to follow the dramatic fall of Channel One News. It will be interesting to see how many schools and students Channel One loses this coming summer.
From October 2, 2012:
Channel One News is quickly disappearing from classrooms.

There are a lot of tears nowadays at Channel One News.
Plummeting audience numbers means shrinking ad revenue.
Shrinking ad revenue of course means… oh no, there go the tears again.
A 9.0% loss of audience follows 2011's loss of 8.3%.
For the last two years (730 days), Channel One News has lost on average 1,300 student viewers PER DAY.
From Jim Metrock:
Schools are dumping Channel One News at an ever increasing pace.
In 2010, Channel One admitted to a audience of "nearly 6 million" students. That figure represented a loss of over 2 million students from the peak of "over 8 million" in 1999/2000.
Since 2010, Channel One has lost an additional 1,000,000 students. Today, October 2, 2012, Channel One is claiming they have "nearly 5 million" remaining in their classroom audience.  "Nearly 5 million" means they have 4 million-something under contract.
Below: Take a trip through time and see for yourself Channel One's self-documented disappearing act.
1998 
Audience:
Schools: "more than 12,000"
Classrooms:
Documentation: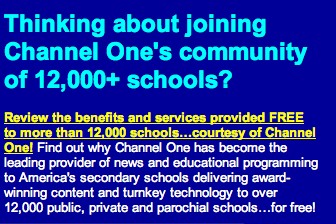 1999
Audience: "more than 8 million"
Schools: "more than 12,000"
Classrooms: "440,000"
Documentation: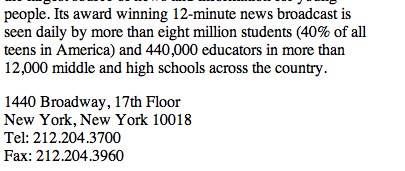 1999 
Audience: "8.1 million"
Schools:
Classrooms:
Documentation: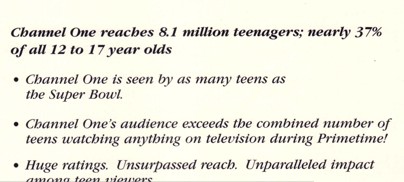 2000 
Audience: "over 8 million"
Schools: "12,000"
Classrooms: "400,000"
Documentation:

2002 
Audience: "nearly 8 million"
Schools:
Classrooms: "over 350,000"
Documentation:

2003 
Audience: "nearly 8 million"
Schools: "nearly 12,000"
Classrooms:
Documentation: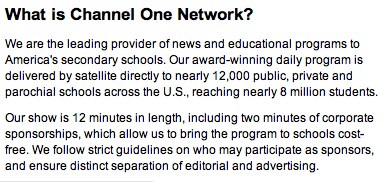 July, 2005 
Audience: "over 7.7 million"
Schools:
Classrooms: "over 350,000"
Documentation:

December 20, 2005 
Audience: "more than 7 million"
Schools: "11,000"
Classrooms: "over 300,000"
Documentation:

June 27, 2011 
Audience: "nearly 6 million"
Schools:
Classrooms:
Documentation:

September 7, 2011
Audience: "nearly 5.5 million"
Documentation: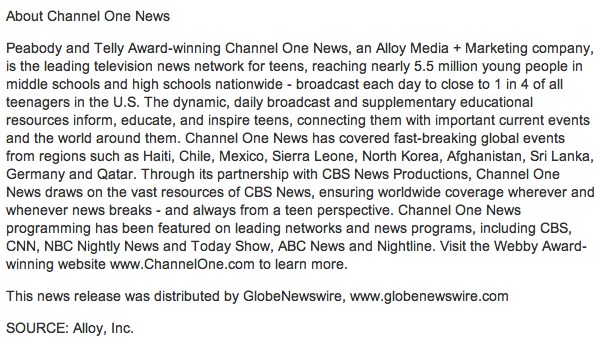 October 2, 2012 
Audience: "nearly 5 million"
Schools: "7,000"
Documentation: