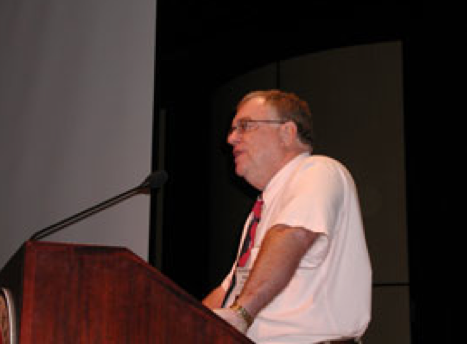 Bob McCannon
My email to the Media-L list serve (media educators)
I'm very sad to hear of Bob McCannon's death this week.  
He was a friend and mentor.
Bob wanted purity in media education. No conflicts of interests -Don't allow Big Media to fund efforts to inform the public about Big Media. 
He made sense. Bob was all about common sense.
When Channel One bought their way into media literacy, sponsoring ML conferences, he stood in opposition. He spoke up and like me often offended those who adopted a means-justifies-the-end philosophy.
I remember at the Austin conference, we both were nauseated by Channel One's influential presence. (Think about it: This youth marketing firm that compelled a captive audience of schoolchildren to watch commercials for Snickers, Twinkies, movies, was actually a beloved partner of more than a few media educators. Only in America.)
The last night of the conference everybody adjourned to the restaurant across from the meeting area. As Bob and I walked in we pass a table with all the Big Shots of the conference. Right in the middle of the table loaded with noted media educators sat a beaming Paul Folkemer VP and registered lobbyist for Channel One. He was at the grown-ups' table. His company's money allowed him to literally rub elbows with very important people in the ML world.
So Bob and I walk on past the table and sat with several NMMLP educators and staffers, and over some cheap Mexican beers we agreed to start a different ML organization that would not take money from media companies – duh.
That became the Action Coalition for Media Education (ACME). It never became big, but its mere existence should always remind media educators to never sell out.
Bob McCannon never could tolerate BS (I believe that's one of the indicators of a truly media literate person).
For Bob's sake and more importantly for the sake of American media education, I hope that media educators and NAMLE will always refuse Big Media's painfully easy money.
There is no right way to do a wrong thing.  Here's to a bear of a man who did media education… and life right: Bob McCannon. 
Jim Metrock