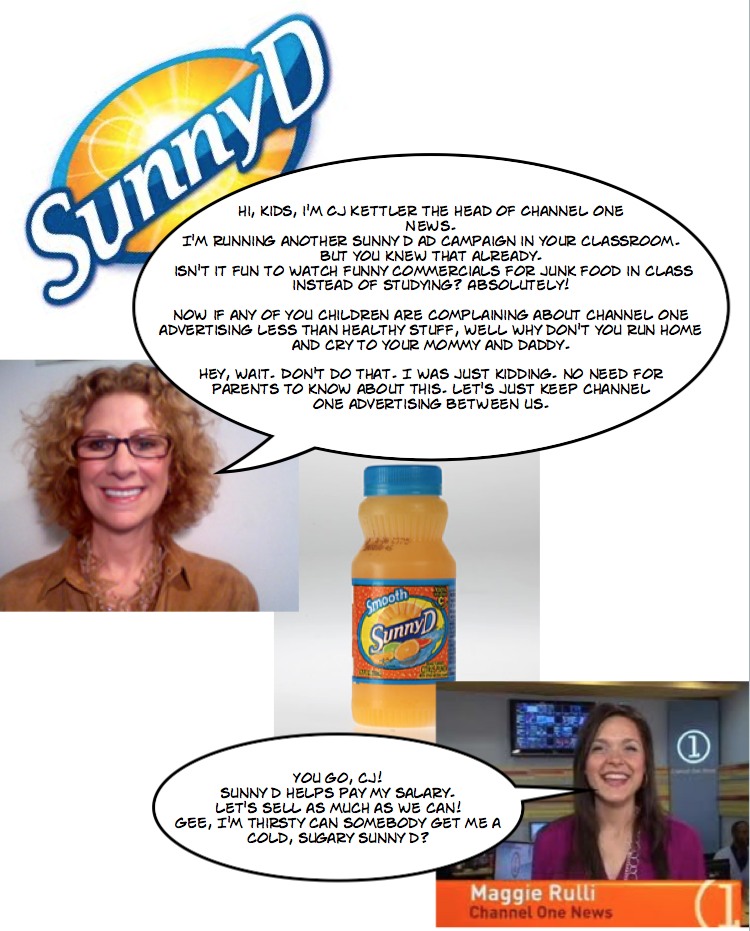 From Jim Metrock:  Ms. CJ Kettler is making it hard for anyone, especially teachers, to defend her, much less like her.  The few teachers who have tried to support Channel One's commercial presence in classrooms, have to be throwing up their hands and shaking their heads when they see what Ms. Kettler is doing.
How can this executive approve classroom ads for SunnyD?  I am baffled by her decision.
She has to know the reputation of this orange drink.  It made NBC's 20 Worst Kids' Foods in America list.  She can't claim ignorance about the uproar over this product because it goes back many years.  2002 – SunnyD –Designed to Deceive – Center for Science in the Public Interest
I have tried to talk to Ms. Kettler before.  I have been unsuccessful – imagine that.  So I will speak to her through this website:
Dear Ms. Kettler, you are acting irresponsibly.  You are breaking the trust schools have placed in you and your company.  Trying to get more young people to drink high sugar drinks is not wise.  In fact it is mean.  You are doing a mean thing.  You know there is a youth obesity crisis.  Do you think your actions will not have consequences?  I urge you to stop these ads.  I understand it will be hard to walk away from this ad revenue, but you know what you are doing is wrong.  
It's a good thing that Channel One's CEO is a board member of Healthy Child Health World otherwise no telling what other junk foods she would be advertising to schoolchildren.