Channel One News paying people to write positive articles about their company. 
From Jim Metrock:  The stink was overpowering the moment I landed on Andrew Kardon's Mommysbusy.com "family oriented" site. The article I first saw was a Kardon homage to Channel One News.  What?!  His praise seemed unauthentic, awkward, and forced.  The man was clearly unfamiliar with the subject of his own article.  Didn't he know that Channel One is a pariah among educators?  What was going on?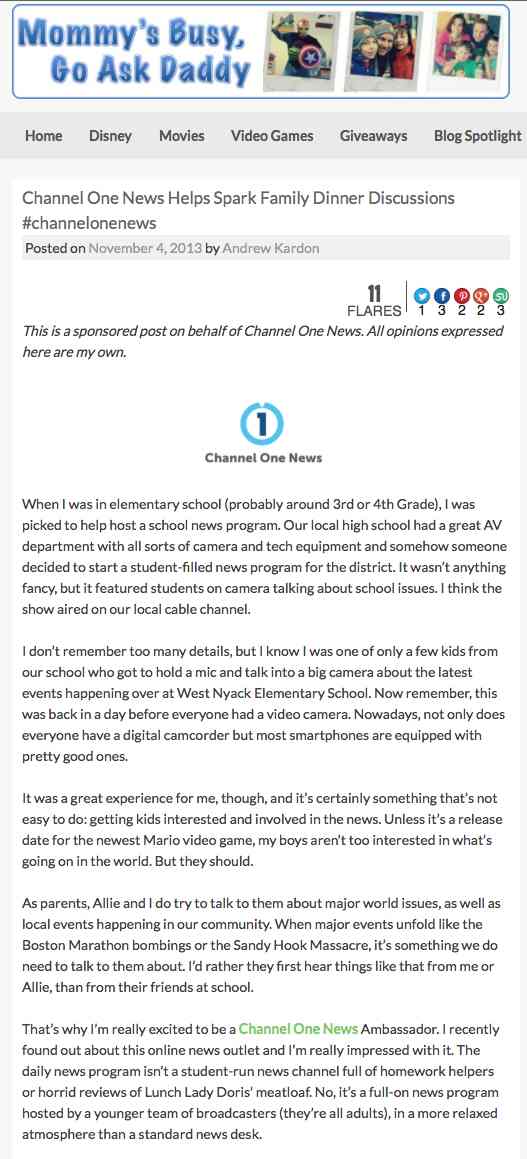 For full story: http://www.mommysbusy.com/channel-one-news-helps-spark-family-dinner-discussions-channelonenews/
His children did not have Channel One in their schools so why is Andrew Kardon a sudden fanboy of Channel One?  To his credit, Mr. Kardon tells us.  Notice at the beginning of his post he says, "This is a sponsored post on behalf of Channel One News.  All opinions expressed here are my own."
Holy cow! Channel One News is paying him.
It seems Mr. Kardon has become a Channel One News Ambassador!  I have never heard of this term.  It must be yet another brilliant idea from the mind of CEO CJ Kettler, like her idea to bring junk food ads back to Channel One News last year.
What Channel One News is doing is paying people to write good things about their company.  That's pretty pathetic.
For this to become public has to be embarrassing for Channel One News.  I don't think it's embarrassing for Mr. Kardon, because he makes it very clear that he and his website are up for sale to the highest bidder.  Most writers would be concerned about potential conflicts of interest.  Not Mr. Kardon.  He dismisses all conflict of interest concerns with a throwaway line on his Disclosure page:  This blog does not contain any content which might present a conflict of interest.  Nice try, Mr. Kardon, but much of your website raises conflict of interest concerns.
It turns out Andrew Kardon is simply a freelance, gun-for-hire, public relations guy who will weave a sponsor's commercial message into articles on his blog.  He actually says on his andrewkardon.com site: Need a freelance writer? Keep your content fresh by tying it into today's hottest trends. Whether it's feature articles, news stories or blog posts, I can magically tie it all into pop culture to make your content current.  
Sorry, Andrew, there is nothing magical about you.  Endorsing products for financial benefit is nothing new.
Kardon's website, where positive stories about Channel One appeared, looks like one thing, but in reality is something completely different.  The site looks like a website a dad has created to keep parents up to date on the popular culture and to share experiences of being a father.  Instead Kardon is taking money from companies and writing ad copy that looks like a heartfelt article.  That sickens me.    
This Channel One News Ambassador has to have language like the disclosure below because of Federal Trade Commission requirements.  Some sites are more transparent than others.  Andrew Kardon's Mommysbusy.com needs a lot more disclosure.  I have written Mr. Kardon and asked him how he became a Channel One News Ambassador and how much did Channel One News pay him.  He has not replied.  If he does I will post his entire reply without any edits. Dear Channel One News,  I think it is time you recall your ambassador.