Channel One News gets more great press, but at a co$t. 
From Jim Metrock:
Kathleen Bunn has gone cuckoo over Channel One News.  She is a Florida blogger who on three occasions has written very positively about Channel One.
Ms. Bunn maintains a blog called Life With 4 Boys.  Like Andrew Kardon's site (remember he is the other fan of Channel One News),  Ms. Bunn's site is filled with sponsored articles.
Channel One News has once again been caught paying someone – ANYONE! – to praise their company.  
Does Channel One News have enough money in their bank account to keep paying people to mislead the public?  I imagine so, mainly because I can't imagine Channel One paying Kathleen Bunn and Andrew Kardon much money to write their articles.  After all, the public is pretty smart.  When they see a site like Bunn's and Kardon's they realize these sponsored writers have little or no credibility.  
Here is what Kathleen Bunn writes at the beginning of one of her pro-Channel One articles:
I was compensated for my time and effort in providing my honest opinion of Channel One News. All opinions are my own. 
[Strange: When I was finished with the Andrew Kardon article, I checked around the web to see if there were any other Channel One Ambassadors and I found Ms. Bunn.  I wrote her and asked her to tell me how Channel One got to her and how much they paid her.  She never responded, but she changed her disclosure statement of all things.  Before I wrote her and told her basically she was busted, her disclosure statement read:  This is a sponsored post on behalf of Channel One News.  All opinions expressed are my own.  I don't know the significance of the change.  Maybe she wanted to differentiate her disclosure from Mr. Kardon's]
Back to the the disclosure as it is written now:  Ms. Bunn is having some fun with words. Is she implying that she woke up one morning thinking good thoughts about Channel One News, and then she posted a very positive article about Channel One News on her blog, and then Channel One News found out about it, and then sent her a check to thank her for all the time and effort she put in to write such glowing words?  Garbage.
Channel One News sent Ms. Bunn a story idea.  They offered to pay her if she personalized the story a little bit so it looked authentic, sincere.  They paid her to have a certain opinion.  Her saying, "All opinions are my own" means nothing.  That can be true even when you are paid to have a certain opinion.
Let's take a closer look to see if Kathleen Bunn and Andrew Kardon are sincere believers in Channel One or just paid parrots.
 On November 4, 2013 Andrew Kardon felt inspired to write the article below.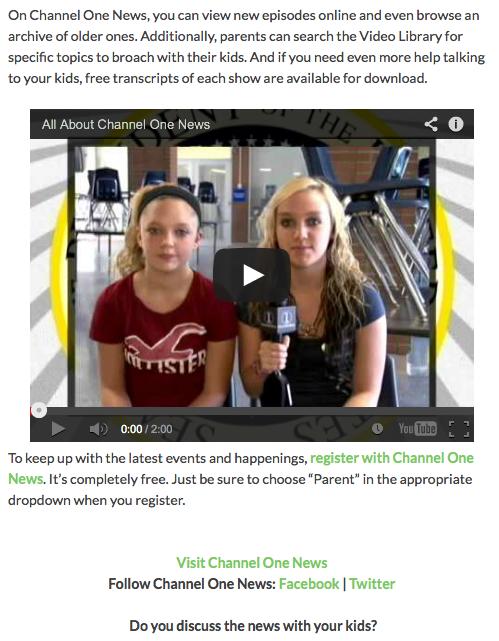 Four days later, Nov. 8, 2013 Kathleen Bunn decides to write this article: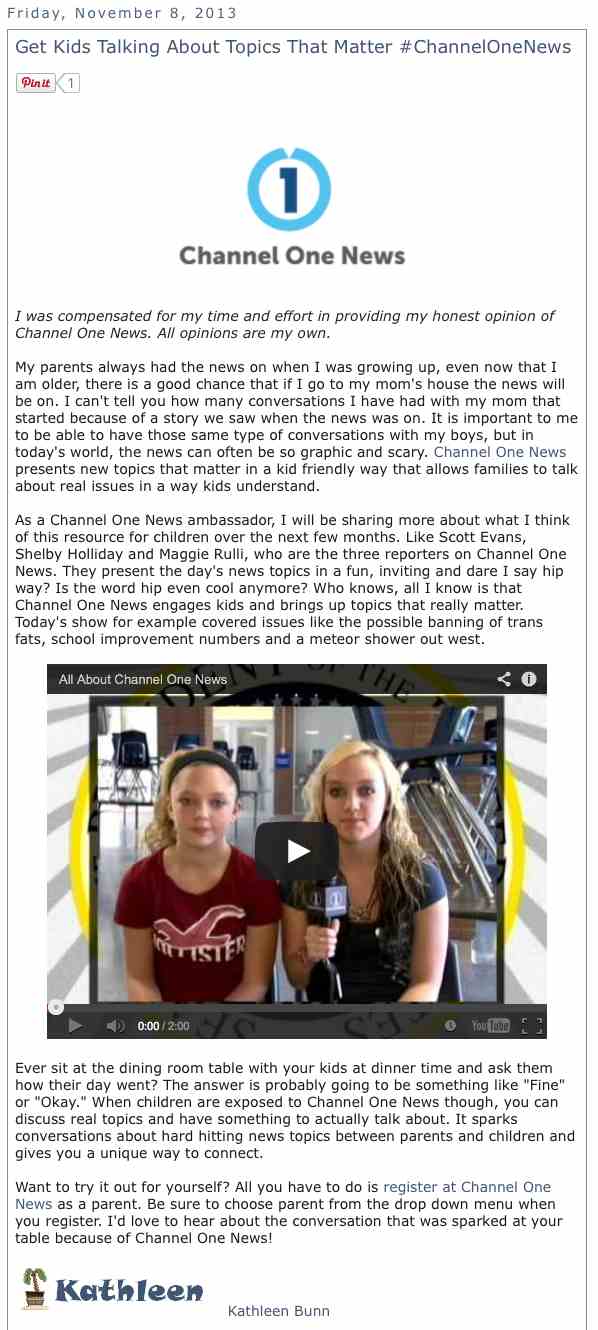 Oh oh.  
Let's look at another odd coincidence.
On December 18, 2013, Kathleen Bunn writes this post: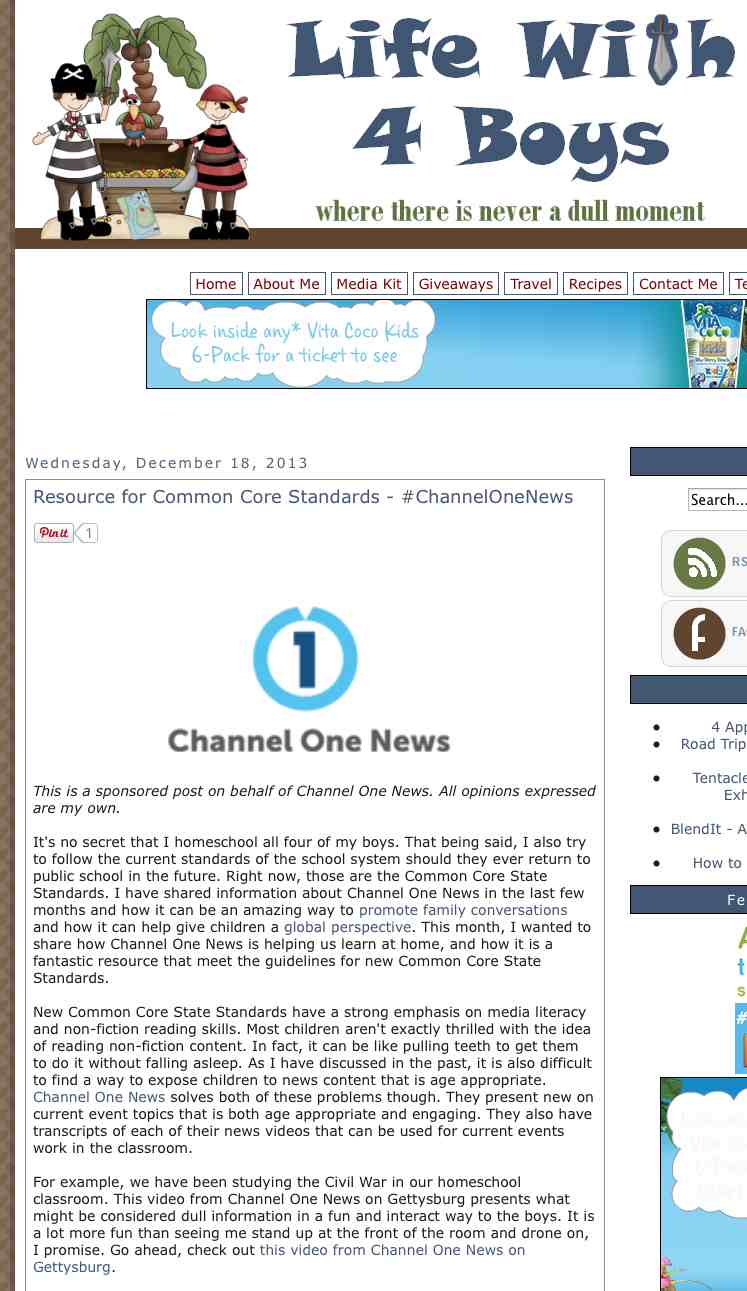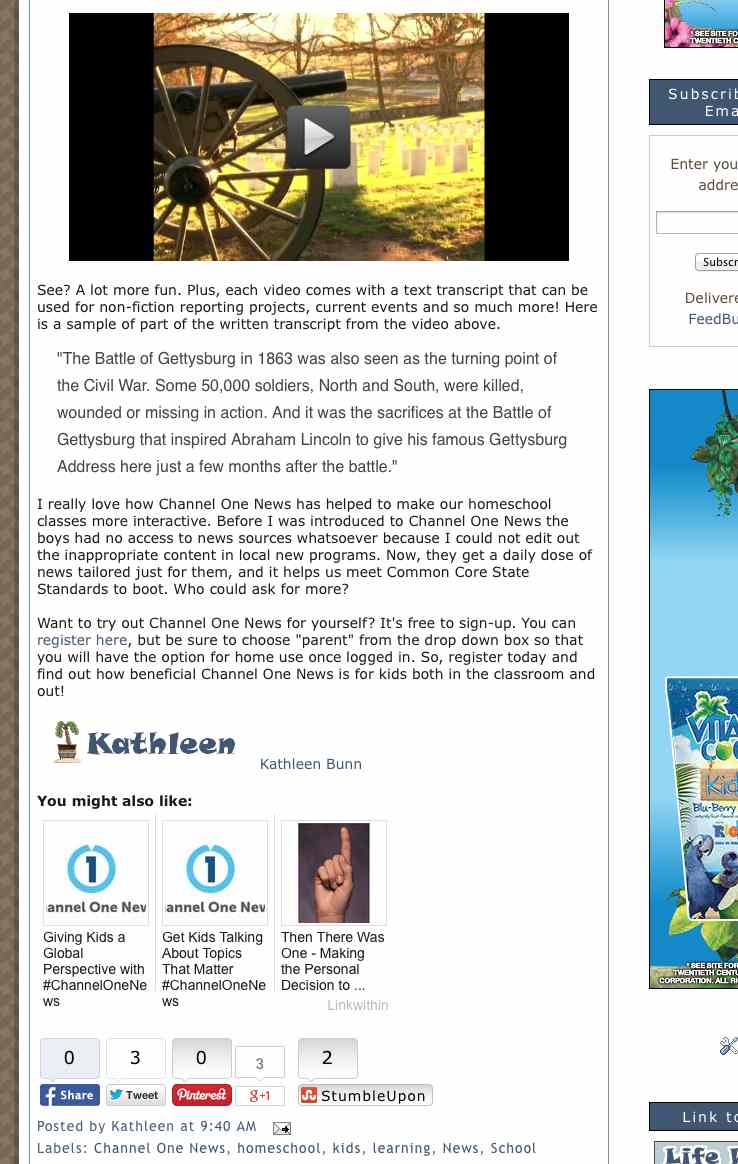 The next day Andrew Kardon wrote his article about Channel One and the controversial Common Core educational standards just like Ms. Bunn did.  It is obvious these two bloggers were told by Channel One News what the subject matter of their blog posts would be, they were told to add some personal touches to the article so it looks like the content was original to them, and they were told how much Channel One News would pay them if they performed as requested,   In short it is obvious that these two bloggers, these two Channel One News Ambassadors, are as genuine as a three dollar bill.