May 28, 2014 
From Jim Metrock:  I wrote this article 7 years ago.  Primedia had just transferred Channel One News to Alloy Media and Marketing.  Channel One's owners, Primedia, admitted Channel One had little value. "De minimis" value if you will.  
I wonder how much value Channel One has added to itself in the years since being valued at next to nothing?  Did Kent Haehl and Ms. CJ Kettler make their company more valuable?  I would be surprised if they did.  Channel One's brand was dead long before Alloy took over.  
Right now, Houghton Mifflin Harcourt isn't wanting to disclose the cost, if any, of acquiring Channel One.  They might disclose this information later in their SEC filings, or on a quarterly financial conference call.  However, there is a way for Houghton Mifflin to keep this information, which is possibly embarrassing  to Houghton Mifflin and more certainly to Channel One, from ever coming out.  If Houghton Mifflin declares their acquisition of Channel One to be a "non-material transaction," then they don't have a requirement to tell the public.  
The one thing I do know for sure is a company can't exist indefinitely at the "de minimis" level of valuation.
"de minimis"
by Jim Metrock  May 3, 2007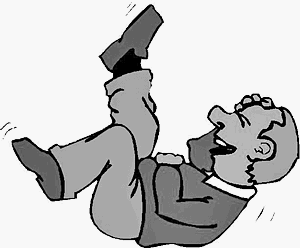 Primedia Chairman ecstatic over dumping of Channel One.
Primedia's chairman Dean Nelson answered questions about the embarrassing "sale" of Channel One during today's First Quarter financial conference call.
One analyst asked if there was any tax benefit from the sale of Channel One. After all, Primedia, then known as K-III Communications, had bought the company from Christopher Whittle in 1994 for $250 million. Primedia has also invested additional millions in the company over the last 12 years. When a company collapses as badly as Channel One and you have to GIVE it away for nothing, a parent company should expect at least to garner some income tax benefit. Nelson with no emotion in his voice said there was no tax benefit. Nelson went on to make sure everyone knew what a total failure Channel One News was for Primedia. He said that Alloy's purchase of Channel One was a "de minimis transaction." Ouch.
The mighty Channel One became a pile of junk because parents, educators and groups like Obligation refused to let this company get away with its exploitation of schoolchildren.
Mr. Nelson had to further explain why the sale of Channel One netted Primedia no money – not one penny. Nelson said Channel One was an "old asset" implying it had run itself into ground and had little or no life left, therefore no market value. Nelson said, "the remaining asset valuation was extremely small." He said that everything at Channel One was fully amortized. Channel One apparently never thought it was important to modernize their equipment.
The "sale" of Channel One to Alloy, Inc. netted Primedia no cash, no stock, no player to be named later, and no tax benefit. What Primedia got was relief. They took a nightmare from their balance sheet and put it on Alloy's. They got rid of a controversial company and passed it on to Alloy. They removed a money-losing company with little prospect and gave it to Alloy. When you stop hitting yourself on your head with a hammer, it feels so good. It's time for Alloy to have its surplus cash eaten up by Channel One. What Primedia's Dean Nelson was wanting to say in today's conference call was, "Good riddance to bad rubbish."
This was the final mention of Channel One in today's First Quarter press release:
"On April 23, 2007, PRIMEDIA completed the sale of its Channel One News business, a discontinued operation, to Alloy, Inc. Terms of the transaction were not disclosed. PRIMEDIA has no contingent liabilities regarding Channel One News."
If Primedia has no contingent liabilities regarding Channel One News, then ALL contingent liabilities have to have been assumed by Alloy. That is stunning.
The giveaway of Channel One confirms that this company has lost almost all value to schools and to investors.
Primedia is happy to be free of the Channel One burden. No more explaining missed projections and shoddy execution. Now every three months Alloy, Inc. will have to explain why Channel One is dragging down their company's revenue.
To all those who ever raised an objection to Channel One's presence in classrooms, you should feel proud. You have been part of something extraordinary. We succeeded in turning an up-and-coming media powerhouse into a de minimis punch line to a bad joke.