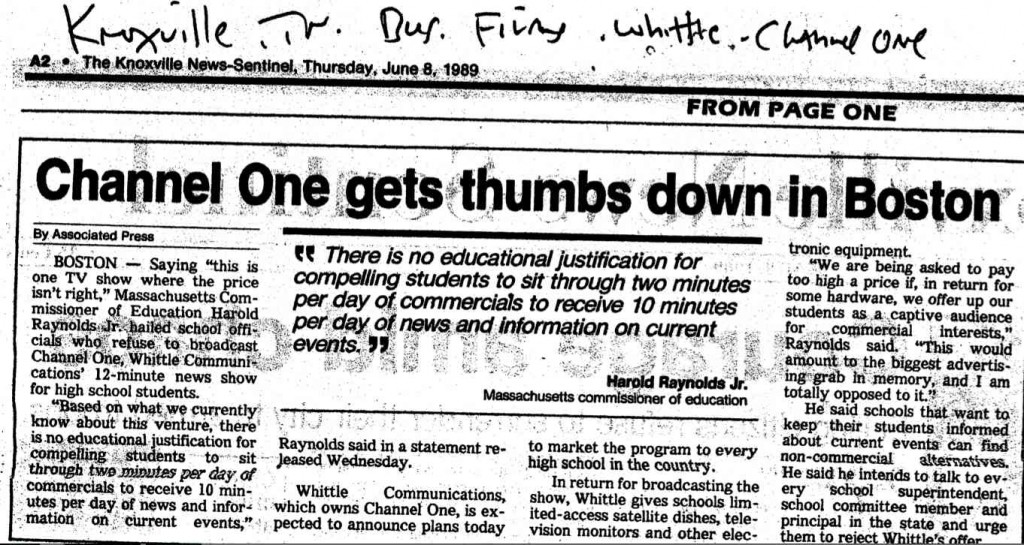 From Jim Metrock:
This news article is from 1989, the year Channel One was still being tested in seven pilot schools.  
Massachusetts never liked Channel One.  Still today, the company has little presence in the state.
How odd to now have an old Boston firm like Houghton Mifflin owning Channel One.  Houghton Mifflin/Channel One is now a force to be reckoned with.  With its parent company's financial resources, Channel One News can pursue new advertisers and greatly expand its brand of "kiddie marketing."
Nobody would buy Channel One unless they were interested in advertising in classrooms.  That after all is what Channel One does.
The creation of Houghton Mifflin/Channel One is not good news for educators and parents who thought Channel One would quickly wither away. Classroom commercials got a shot in the arm on May 13 when Houghton acquired Channel One.  
Let's hope there's another AP story coming soon that reads: Houghton Mifflin gets thumbs down in Boston