Channel One's CJ Kettler gives first interview since 2012 hiring.
Interviewer serves up powder puff questions for secretive executive.
For the full interview click here.
From Jim Metrock:
How secretive is CJ Kettler?  She didn't want anyone to know she was hired to be CEO of Channel One.  She had been in that position for around six months when I wrote a story about Kent Haehl no longer being the CEO, and another about CJ Kettler being the new one.  Only after Obligation told the world about Ms. Kettler was Channel One forced to put out a press release acknowledging Ms. Kettler was indeed the company's top executive.
The good news is Channel One"s press-shy CEO has finally given an interview.  The bad news is the interview is more like a promotional article by Channel One's PR department.
Kevin Loker works for a small nonprofit called the American Press Institute.  His recent article Transforming a longtime youth news program to match new behaviors: 7 good questions with Channel One News is his personal homage to the TV show he watched during his high school days.
Although Mr. Loker believes he asks good questions (seven in fact), the truth by serving up softball questions, no one is served. Where were the questions about why Channel One continues to lost schools?  How many schools remain under contract?  Why did ZelnickMedia and Alloy Media and Marketing dispose of Channel One?  How much did Houghton Mifflin pay for Channel One?  How many schools are paying subscription fees to Channel One?  Sorry, Kevin, these are "good" questions; yours are not.  
Hard hitting questions from the article include:
Loker:  You cover news from a "kid/teen perspective." For example, when your anchor Shelby Holliday went to the Philippines to cover last year's typhoon, you told me she interviewed the young people in the area to see how they were affected. When she went to South Africa to cover the death of Nelson Mandela, she spoke to kids about Mandela's lasting impact. Why take this approach?
Wow. This question had to been written by Channel One or at least it was suggested by them.  The question itself conveys positive messages about Channel One before Ms. Kettler has a chance to comment.  You can read the other "good" questions by clicking here.
Let's see one more question. Ms. Kettler's answer is interesting.
Loker:  How are you approaching getting youth — in their free time — to follow or get involved with something they might see primarily as "something they do at school"?
Kettler:  We approach this in a few different ways. First, we work really hard to create a relevant, relatable daily news show that both informs and inspires our audience. So while they might not be in school watching our program in July, if a major news event happens, they might come to channelone.com to learn more about it.
We also make sure that we balance our news content with engaging interactive content on both our website and across our social platforms. For example, every Tuesday, we post a behind-the-scenes photo of one of the anchors and we ask our kids to caption the photo. Every Friday, we announce the winner on the show. Kids and teachers love it – it's our most successful content campaign – and they are often submitting their captions outside of school hours.
We also work hard to spark discussions around the news events that we know will resonate with our audience. We ran a story earlier this Spring about Sheryl Sandberg's "Ban Bossy" campaign, and we had kids commenting well into the night with their thoughts on the campaign.
Whoa.  "Kids and teachers love it"?  Channel One's CEO gives as the premier example of her company's interactive content the cheap and silly example of a photo caption contest.  This is exactly what it sounds like.  Channel One will post a picture of an employee or two who are mugging for the camera, and Channel One invites students to suggest a funny caption.  Here's an example of what Ms. Kettler is beaming about: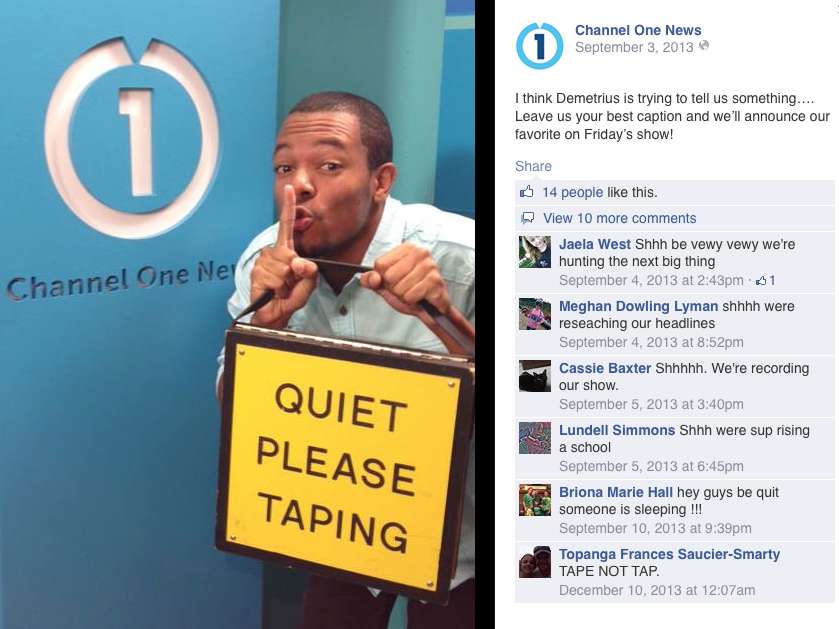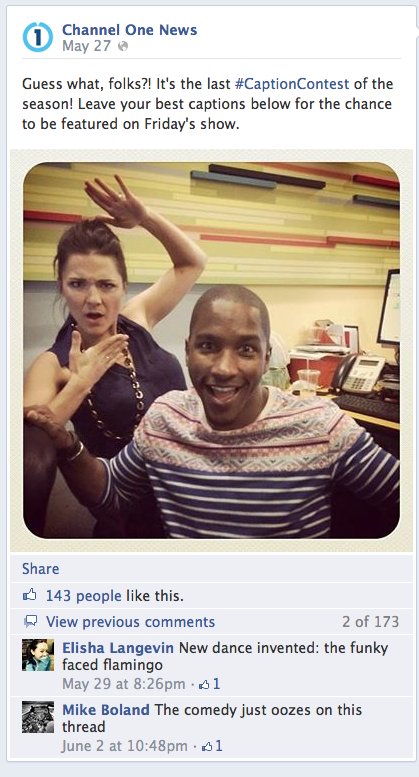 THIS is Channel One's "most successful content campaign" this year? ever?  Really?!  This is filler content.  It takes up space on Channelone.com and it takes up time on Channel One News.  I guess Ms. Kettler is technically correct when she calls this  "interactive content," but come on.  Also Ms. Kettler answers Loker's question about engaging students outside of school by saying (straight face, please) "…and they are often submitting their captions outside of school hours."
As much importance Channel One's CEO places on photo caption contests, you see how few students are participating: 16 on the first example above,  173 on the second.  That's for the whole country.  This is another indication of how Channel One has become increasingly irrelevant in the lives of schoolchildren.
Don't hold your breath for an honest-to-goodness, real interview with Channel One's CJ Kettler any time soon.