From Jim Metrock:
The lazy, crazy days of summer have taken their toll on Channel One News. 
The company has a section of its Channelone.com website called "Interact."   The section sounds more engaging than it really is. Most of the content consists of simple multiple-choice quizzes or slideshows.  
Below is a screen shot of Channel One's Interact page as of today July 20, 2014.  Even though the content looks like it takes very little time to create, the company is too lazy to keep it updated.  Check it out for yourself.
The last post on the Interact page is from June 12, over a month ago.  (If you check out the site, you will probably find some quickly created new content because Channel One employees read Obligation's site and they often try to correct things I point out to the public.)
As I said before, since Channel One News refuses to produce a news show during the summer months, one would think they would do all they can to keep young people coming to their site.  One would think Channel One would try to back up their lofty mission statement ( "to encourage students to be informed, digital-savvy global citizens") with robust content.  But nah, this is Channel One News and nobody is going to knock themselves out for young people, especially during the lazy days of summer.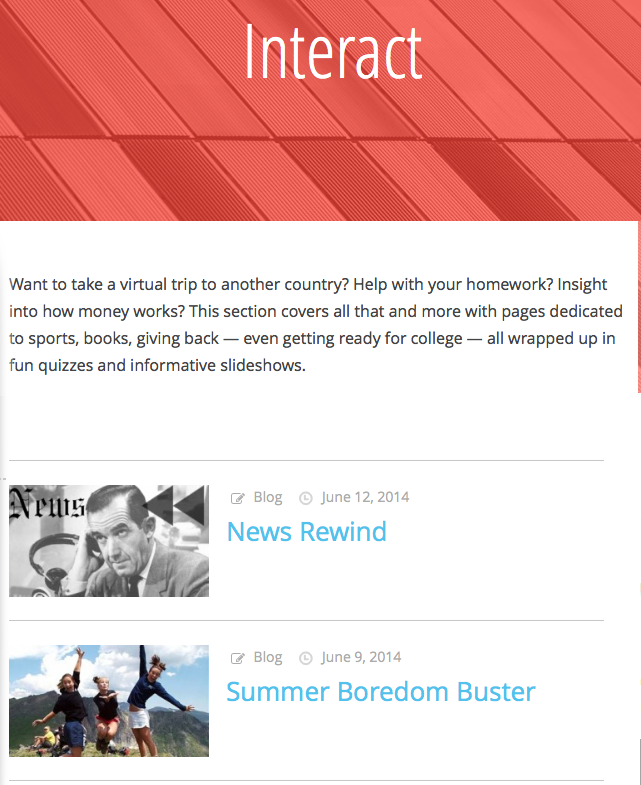 Dec 18, 2003 … It includes the script for tomorrow's show, Friday, December 19, 2003. What is the significance of this? It shows once again how absolutely lazy …
www.obligation.org/2003-12-18-the-lazy-news-network