HMH quarterly earnings conference call:  Progress made coming out of bankruptcy.
Channel One News not mentioned by HMH CEO Linda Zecher.
Channel One and other acquisitions will have "no impact" on company in short term.
Total cash paid out for three companies, including Channel One: $9.5 million.
(Channel One was sold for $240 million in 1994.)
Houghton Mifflin acquired only "certain" Channel One assets and liabilities.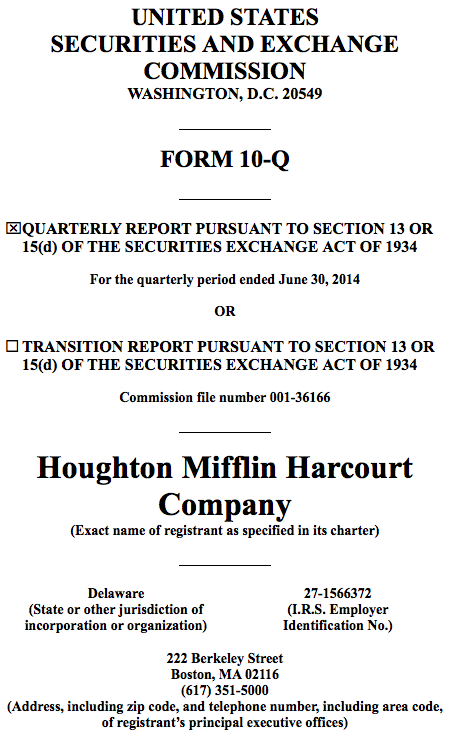 From Houghton Mifflin Harcourt's 2nd quarter 10-Q statement to the Securities and Exchange Commission:
On May 12, 2014, we completed the acquisition of certain assets and liabilities of Channel One News, which is a digital content provider dedicated to encouraging kids to be informed, digitally-savvy global citizens. The acquisition allows for continued development of high-quality digital content for students, teachers and parents across multiple modalities, and will bring video and cross-media production capabilities to HMH.
On May 19, 2014, we completed the acquisition of 100% of the stock of Curiosityville, which is an online personalized learning environment that helps children ages 3-8 learn through playful exploration and discovery both at home and in pre-school settings. The acquisition also includes its proprietary data collection and analytics engine, the Learning Tree, which provides real-time information on individual learners and personalized recommendations for learning, both online and offline.
On June 30, 2014, we completed the acquisition of 100% of the stock of School Chapters, which is an educational solutions provider dedicated to standards-based education quality management, accreditation services and community-based resources for educators and learners across the pre-K-12 and college spectrum.
The total aggregate purchase price for the three acquisitions described above was approximately $9.5 million, which consisted of cash at closing of approximately $9.1 million, and amounts in accrued liabilities of approximately $0.4 million. Goodwill, other intangible assets, accounts receivable, property, plant, and equipment, other assets and other liabilities recorded as part of the acqusitions totaled approximately $1.1 million, $0.2 million, $3.1 million, $6.8 million, $0.4 million and $1.7 million, respectively.
The 2014 transactions were accounted for under the acquisition method of accounting. We allocated the purchase price to each of the assets and liabilities acquired at estimated fair values as of the acquisition date. The excess of the purchase price over the net amounts assigned to the fair value of the assets acquired and liabilities assumed was recorded as goodwill. The financial results of each company acquired were included within our financial statements from their respective dates of acquisition. The acquisitions were not considered to be material for purposes of additional disclosure.
In 2013, we made a $1.5 million investment in preferred stock. Based on impairment indicators, we were required to remeasure the fair value of our 2013 investment with any resulting gain or loss recognized in the statement of operations. Based on the implied fair value of the investment, we recorded an impairment charge of approximately $1.3 million during the three months ended June 30, 2014 relating to the fair value remeasurement.