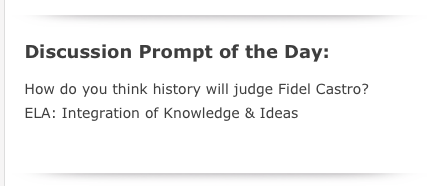 "Discussion prompt" from Channel One's Nov. 28 newsletter to teachers. Ugh.
From Jim Metrock:  Yesterday Channel One News told students that when it came to the brutally repressive regime of Fidel Castro there were – get ready – pros and cons.
Channel One News purposefully misled schoolchildren by implying the entire country of Cuba was mourning the death of this monster, and by saying it was America's fault that the Cuban economy was a disaster.
As with many of their reports, Channel One presents a "values neutral" perspective to its secondary and elementary school students.  Nothing is ever "wrong" or "right" no matter how obviously wrong or right something is.  It IS what you believe it IS.
In their sloppy story yesterday, Channel One News purposefully left out any mention of execution squads, political killings, and arbitrary imprisonments for decades of Castro's iron fist rule.
So this "discussion prompt" about one of the world's most notorious human rights abusers is not surprising.  Thankfully few teachers who still have Channel One, would ever consider using a suggestion from this controversial "kiddie" marketing firm.