From Jim Metrock: This article was originally published on August 16, 2005. This story underscores Channel One's sick policy of forcing the same news story on students no matter what age.
August 16, 2005 – First Day Is All Horror Day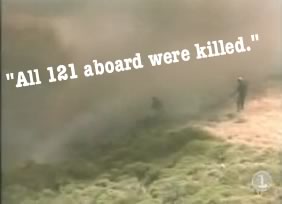 Screen shot from Channel One News
show for middle school students.
Above all, you must get the attention of the students.
That appears to be the top priority for Channel One producers when they piece together their TV show.
They believe you have to shock students so they will stop reading or talking and instead start watching the classroom TV set. Once you have their attention, then they will probably watch the Channel One  commercials for sleazy movies and junk food.
Channel One News executives use one of the oldest tricks in the book to draw eyeballs. They use horror. They have always done this since Obligation began monitoring the show in 1996.
On Channel One's first show for the 2005-06 school year, the producer of the show had much to pick from. After all, Channel One News has been on vacation since the first week of June. They haven't filed one report for students over the summer. They could have gone back and covered something that would uplift students starting a fresh new school year. Instead, they decided to make the top story of the day the plane crash in Greece that killed everybody on board, including a large number of children.
This is standard procedure for Channel One News.
(Note – Channel One showed its captive audience of young people the car in which Robert Blake's wife was murdered by a shot to the head. Channel One News producers thought that the Blake murder car was "good TV" for students. When the profane, drugged-out rap star Tupac was gunned down in a hail of bullets in Las Vegas, Channel One News took up valuable school time to run a full-length report on the murder. By doing so they uplifted this thug to hero status with students. Students were shown the bullet holes in the rapper's car. Sex and violence sells and Channel One News knows how to use both to increase its revenue.)
| | |
| --- | --- |
| | Channel One News picked out footage that showed the plane still burning with presumably all the victims including 20 children still in the wreckage. |
Of all the stories they could have made the first story for the year, it is remarkably insensitive to begin with such a tragedy. Many young people may be fearful of flying or have little life experience to put such tragic news into perspective. These are things that are under appreciated by Channel One "anything-for-a=profit" executives.
Errol Barnett read the script (below) as children were shown film of the still burning plane. Barnett was the anchor that repeatedly reported, often on the scene, on the sniper killings in Virginia. Channel One News would routinely reported on the horrific murders of people at gas stations. Obligation's efforts to get Channel One to stop scaring younger students went unanswered. Death is good for Channel One's business – murder is even better.
[Another example: Gun fire and murder
at Bat Mitzvah.)
From Channel One's script for August 15, 2005:
ERROL. IT'S GREAT TO BE HERE. HELLO, EVERYONE.
LET'S GET TO OUR TOP STORIES.
[PLANE CRASH]
ERROL: INVESTIGATORS IN GREECE ARE TRYING TO SOLVE A MYSTERY… WHAT
CAUSED A PASSENGER JET TO CRASH?
SMOKE AND FLAMING DEBRIS STREWN ACROSS A GREEK HILLSIDE … ALL THAT
REMAINED OF HELIOS AIRWAYS FLIGHT 522 AFTER THE PLANE PLOWED INTO A
MOUNTAIN ON SUNDAY. ALL 121 ABOARD WERE KILLED.
THE PLANE WAS ON A FLIGHT FROM CYPRUS TO ATHENS WHEN IT CRASHED JUST
OUTSIDE THE GREEK CAPITAL.
THE DIRECT CAUSE OF THE CRASH IS UNCLEAR, BUT INVESTIGATORS SUSPECT
A MALFUNCTION IN THE OXYGEN SUPPLY OR PRESSURIZATION EQUIPMENT – KEY
SYSTEMS USED TO SUSTAIN NORMAL ENVIRONMENTAL CONDITIONS WHILE IN FLIGHT.
TWO FIGHTER PLANES SCRAMBLED TO INTERCEPT THE PLANE AFTER GROUND CONTROLLERS
LOST CONTACT, AND THE FIGHTER PILOTS REPORTED SEEING THE CO-PILOT SLUMPED
UNCONSCIOUS IN HIS SEAT.
OFFICIALS ARE NOW ANALYZING THE FLIGHT'S DATA AND VOICE RECORDINGS
TO TRY AND FIGURE OUT WHAT WENT WRONG.
Obligation's Jim Metrock said, "Channel One News knows how to take horrific stories a little bit more horrific. Notice how they use a phrase like 'plowed into a mountain' and how they paint a terrifying picture of passengers being on a plane with a dead or incapacitated crew. This is the stuff of nightmares, for adults and especially young people. This is typical Channel One News. One news fits all. Children just out of elementary school get the same dose of ugliness as do seniors. The 'news' part of the show is the same for all grades. This is one more reason why schools are turning off the show and giving back the 'TV time' to academics."
Metrock continued, "The new caretaker president of Channel One News is Judy Harris. She is no educator. She is no journalist. She is a marketer. She appears to be making Channel One News an even more "in-your-face" TV show. Anyone who can get Channel One's plug pulled at their school will be doing a great service for a lot of young people."