From Jim Metrock:   On January 5, Channel One News devoted over two minutes of their time, and more importantly taxpayer-funded school time, to the topic of… wait for it… new colors of ballet leotards.  You can watch this story at the link below.
Why do this?
Was this what school officials had in mind when they agreed to turn over AN HOUR A WEEK to Channel One News?  No, schools thought that Channel One was devoted to current events and real news.  The sad fact is as Channel One's financial struggles continue, they have added more and more cheap-to-produce feature stories to fill up time on their show.
This picture shows the segment beginning.  The anchor will introduce the taped story that could have been produced and canned months ago.  The great thing  about "feature stories" for Channel One is they have a long shelf life.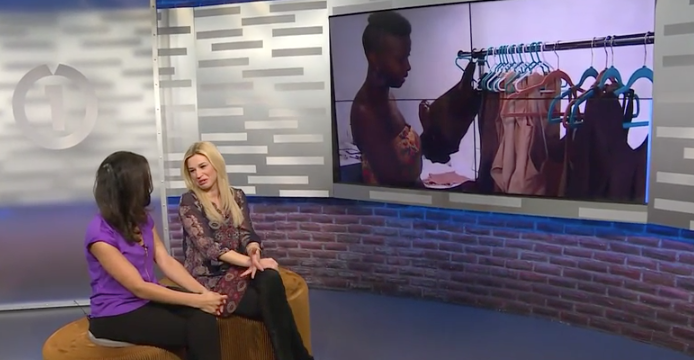 Channel One's crack reporter interviews a 15-year-old ballet student who wants a leotard to match her skin color.  This appears to be a major problem.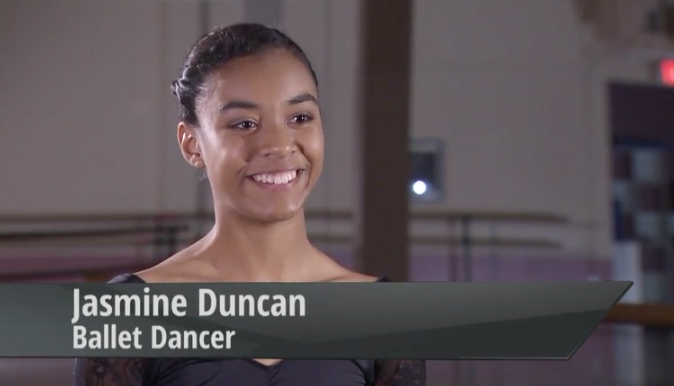 Students still forced to watch Channel One learn there is a solution to this problem: The Mahogany Blues Dance Apparel company.  Students are shown a wide variety of the firm's apparel.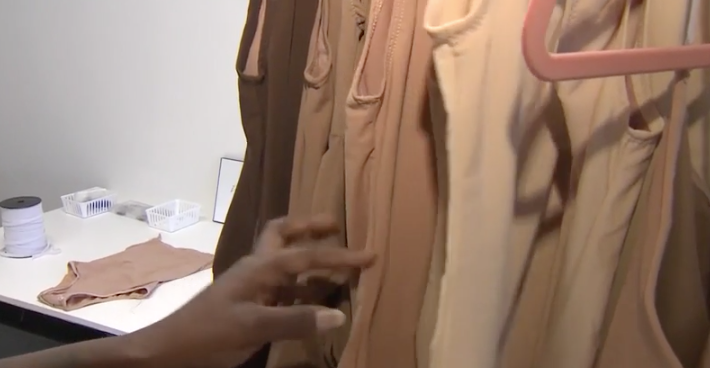 The name of the advertiser (yes this is an advertisement in the form of a feature story) is shown on screen with a display of the various shades available for sale.  The Mahogany Blues website clearly aims for the youth market.
Channel One has always gone beyond their contractual limit of no more than two minutes of ads per show.  They have advertised Gatorade and Red Bull energy drinks to kids in "feature" stories.  The kiddie marketers at Channel One don't like limits.  Did Mahogany Blues pay Channel One for this ad?  More than likely not.  Channel One simply received a benefit: content to fill up 2 minutes of time. In exchange they promoted the dance apparel company's products.  Sweet deal for Channel One; terrible deal for schoolchildren and the taxpayers who have no clue their community's school time is being squandered.
The ugly truth about Channel One News is it's disproportionately found in schools in lower income areas.**  Minority students sadly are forced by their school districts to waste their valuable school time with Channel One's nonsense.  Rich suburban schools have never been excited about the Faustian bargain of trading away an instructional week of school (C1 takes up at least 30 hours a school year) for Channel One's antiquated equipment and controversial content.
If one doesn't know the sorry history of Channel One, one could think this feature story was something that was empowering to African American girls.  I can see where there may be some girls don't take up ballet if they can't have a leotard that matches their skin color.  I guess I know Channel One too well.  This is a company that has commercially exploited schoolchildren, especially minority schoolchildren, since it was founded in 1990.  The fact that they have several "reporters" of color is a facade. There will always be people of all colors who will sacrifice their principles to be a "star" on Channel One News.
Note: I am reminded of a time around 2001 when I appeared on a Alabama Public Television public affairs TV show called For The Record.  When the  host Tim Lennox called me to invite me on the show he asked a strange question: Do you know of anyone who will agreed to appear on the show with you to defend Channel One News?  I knew Channel One's Alabama lobbyist Martin Christie but Mr. Lennox didn't want a lobbyist, he wanted an educator.  I could think of no one.
When I got to the Montgomery, AL TV studio I was shown to the "green room" to wait.  In walks a wonderful big bear of a man whose name I won't give because it is not important to my story.  He was the superintendent of a predominantly African American school district in Lowndes County.  This is one of the poorest areas of Alabama, which is saying something.
He was there to defend Channel One.  I asked him why he liked it.  He said he didn't.  He wished he didn't have it in any of his classroom, BUT he liked the TV sets that Channel One gave in exchange for the attention of his students.  He said signing up with Channel One was the only way his cash–strapped schools could have TV sets in classrooms like "those Birmingham schools."  I felt for him.  I liked this man a lot.  We had a good discussion on air and as we left each other I remember thinking that Channel One is yet another example of the inequality of education.
I hate… HATE… what Channel One News and all the people that have made money from it have done to minority students in our country.  And you should too.
From Channel One's transcript for January 5, 2016:
Okay, coming up, a new twist on the classic ballet uniform.
Emily: When you think of ballerinas, the typical pink leotard and tutu probably come to mind. But Arielle is here to tell us about a new uniform that is raising the barre.

Arielle: That is right, Emily. Dancers of color still have a tough time finding the right skin-toned leotard to wear, but a new company is helping ballerinas get over that hurdle. Check it out.
Fifteen-year-old ballerina Jasmine Duncan says she doesn't have many role models who look like her.
Jasmine Duncan: I can name, like, Misty Copeland or Michaela DePrince, but mostly everyone else is just white.
Arielle: And finding a nude leotard that matches her skin tone is just as hard.
Jasmine: They're usually "nude," but nude means, like, for light skin, so they don't really blend in on a person with darker skin.
Whitney Bracey: Princess Amina, this is Tiana.
Arielle: But designer Whitney Bracey wants to change that. After a friend had trouble finding a leotard for her daughter, Bracey went to the paint store to experiment with colors. Now she hand-dyes leotards for all shades of dancers.

Bracey: Typically, there's like, one to two shades available, and then the dancers have to, you know, get what they can get.
Arielle: Eric Underwood, a dancer with London's Royal Ballet, raised some eyebrows with this Instagram video where he used brown powder to add some color to his slippers. Now some of the world's biggest designers are in the loop, like luxury designer Christian Louboutin, which launched a line of nude ballet flats from pale pink to deep chocolate. 
Jasmine: I think it's a great thing because, like, it makes you feel more included, like this is something that is for me as well.
Arielle: And that is making it easier for dancers of all shades.
Emily: Very cool story, and speaking of, you got the chance to sit down with ballet star Misty Copeland last year, right?
Arielle: I did, and she was amazing, and you guys have got to check out our interview on ChannelOne.com.
Emily: She is so inspiring.

Arielle: Oh, for sure.
Emily: All right, well, I am going to check that out, and guys, that is going to do it for us today. We will see you right back here tomorrow.

Watch the video:  Mahogany Blues promotion Jan 5 2017 Channel One News
**  Channel One in the Public Schools: Widening the Gaps.
Channel One, an in-school television program, provides a centrally prepared, 10-minute daily newscast accompanied by 2 minutes of commercials. Several states ban Channel One because of concerns about providing advertisers such direct access to students within the walls of tax-supported public school buildings. This paper examines what kinds of schools and what sorts of communities choose to receive Channel One, and where Channel One fits in the pool of educational resources. The study used the data archives of Market Data Retrieval, which involves 17,344 public schools and covers grades 7 through 12, revealing some of the following items: (1) Channel One is most often found in low income area schools, where it is often used instead of traditional educational materials when resources are scarcest; (2) schools that can afford to spend more on their students are much less likely to utilize Channel One; (3) Channel One is more often shown to the students who are least able to afford to buy all the products advertised, thus increasing a sense of alienation and frustration; and (4) increasing commercialization of the culture and the schools suggests a shutting out of other voices and interests of the educational system. The study suggests that the use of Channel One in low-income, socioeconomically deprived schools presents an illusion of providing more and better educational facilities which only contributes to widening the societal gap.